Have you ever wanted to be part of bringing an important story to the screen? Step inside the production process for the compelling documentary, Inside The Beauty Bubble, and learn how you can help, on this episode of Notes From Hollywood from Producer/Host Nicholas Snow.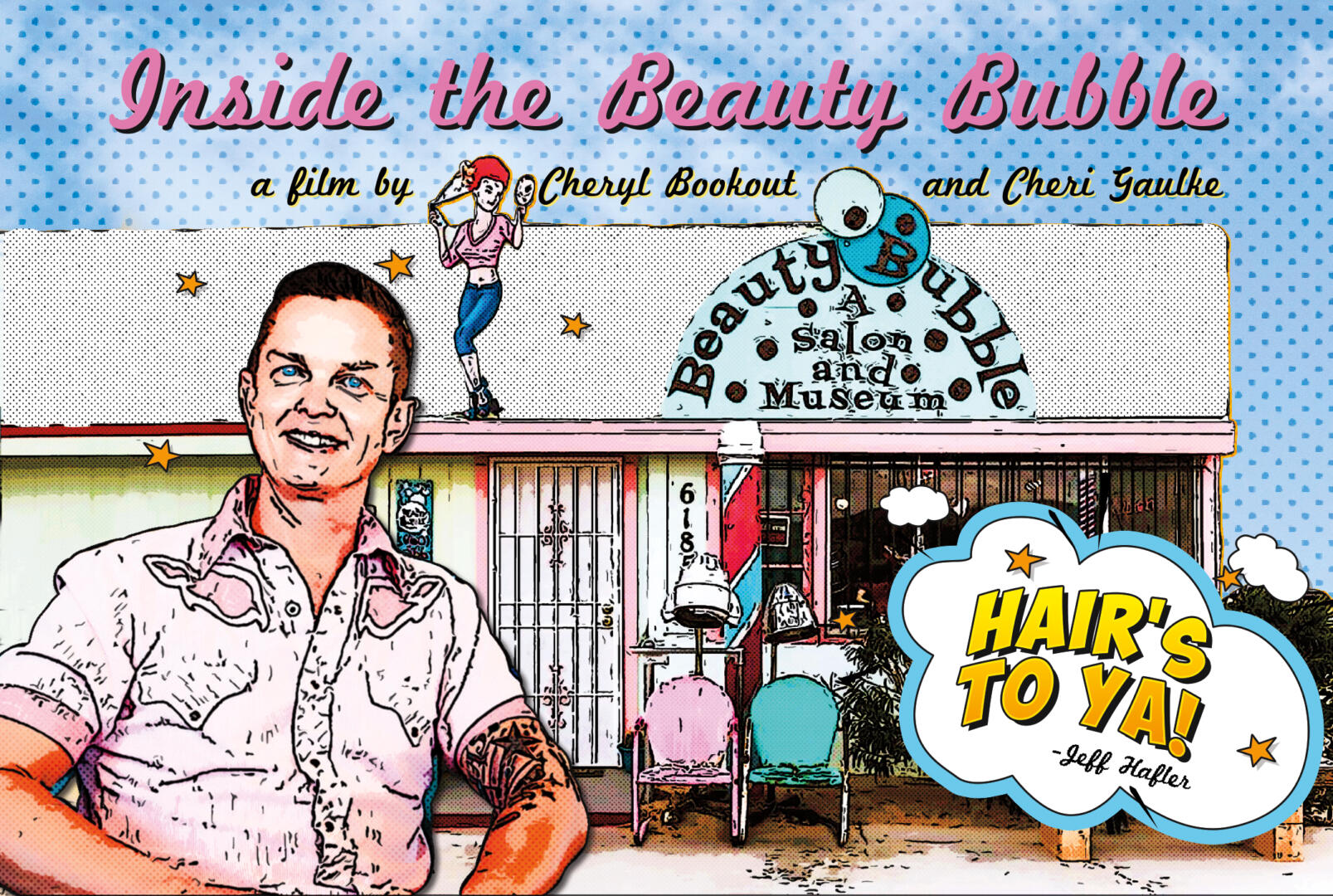 Special guests include the subject (and producer of the documentary, Jeff Hafler, as well as Cheri Gaulke, who is co-directing and co-producing the film with Cheryl Bookout.
Inside the Beauty Bubble is "A hair-raising desert tale of dreams, family, art, music and vintage beauty artifacts."
A short documentary film directed by Cheryl Bookout and Cheri Gaulke, Inside The Beauty Bubble features Jeff Hafler, owner of Beauty Bubble Salon and Museum in Joshua Tree, California.
The filmmakers invite you to "Come Inside the Beauty Bubble and enter a classic Americana roadside attraction in the desert community of Joshua Tree—a walk-in time machine that transports visitors to a pastel dreamland of 3,000 vintage beauty artifacts—and meet the charismatic man behind it all. Inside the Beauty Bubble celebrates a unique individual who follows his dream and welcomes the world into his artful life. Our story affirms the transformative nature of art, desert life, love of community, and what it means to nurture a family—same-sex, adoptive and bi- racial."
More from the Filmmakers (Cheryl in the black and white photo; Cheri with the fab blue hair, and of course, Jeff…Inside The Beauty Bubble):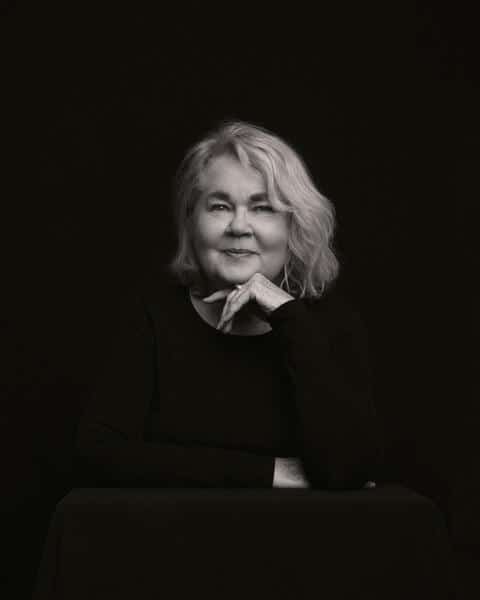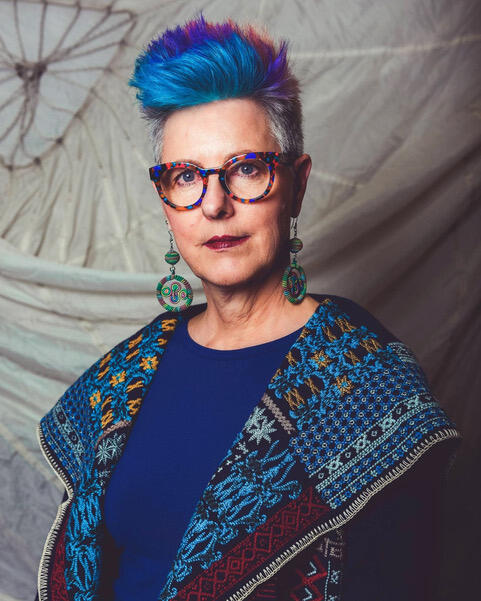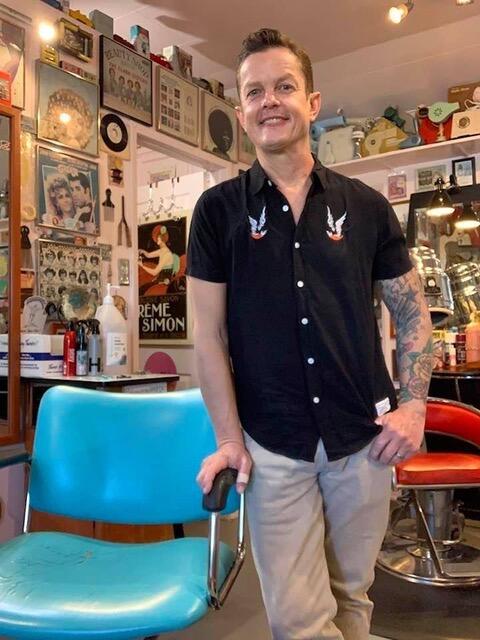 Jeff calls himself a "hairstorian." As a kid he dreamed of being an archeologist and when he became a hairdresser, he turned his life-long love of history into chronicling the history of his occupation. Jeff has created an iconic roadside attraction in the high desert community of Joshua Tree visited by tourists from all over the world. It engages visitors of all ages. With its vintage beauty objects, people squeal with delight as they recognize Grandma's curling iron or that 1970s Breck ad or "what the heck is that anyway?" Jeff loves to answer all your questions!
Over the years Jeff's charismatic personality has attracted local and national press folks to feature the Beauty Bubble in their publications. Nylon magazine described it as "if Wes Anderson designed a hair salon" and "a classic Americana roadside attraction—a walk-in time machine that transports visitors to a pastel dreamland of beauty-industry memorabilia." An article in Allure Magazine put Jeff on the radar of Nicole Mullen, San Francisco International Airport's museum program curator. When she saw the "Hair-sterical Gals," wig sculptures Jeff made out of discarded beauty products and his extensive collection of artifacts, she offered him an exhibition in the new Harvey Milk Terminal (opening in December 2020), where it will be seen by 50 million people!
As we follow Jeff through four seasons leading up to the exhibition, it becomes apparent he is a much beloved member of his high desert community. He brings his artistic sensibility, open heart and joie de vivre wherever he goes— whether he's cutting a devoted client's hair into a flattering bob, lighting the Christmas Tree to kickstart the holiday parade, or growing his hair for two years to donate to Wigs for Kids (yes, we will be there when he cuts it off)!
In 2012, Jeff was interviewed for the Library of Congress' Occupational Folklife Project, Hairdresser and Beauty Shop Culture in America, a podcast series now available to the public. Today, he is one of the many small business owners struggling to survive in the time of COVID, and this too he shares with our team.
The more we learned about Jeff, the more we wanted to share with our audience.
Beyond the Beauty Bubble and Jeff's fun community escapades, Jeff welcomed us into his home to meet his husband Mikal Winn and their teenage son Cash. Mikal is a talented artist and jewelry designer whose jewelry is worn by the likes of Halle Berry, Britney Spears and Lucy Lui. Together their family of three created a solar-powered, eco-friendly desert oasis with mulberry and pomegranate trees, victory vegetable gardens, an enchanted forest lane, a party barn, a chicken named Dolly Parton, a dog named Farrah Faucet, Mikal's sculptures everywhere, and a Tiki-themed trailer!
Our team believes everybody benefits from a society that's more accepting and less discriminating. The U.S. Census Bureau recently released there are 543,000 same-sex married couple households and 191,000 children live with same-sex parents. As filmmakers, we are delighted to bring the story of this unique same-sex parent, adoptive, bi-racial family to audiences.