What better way to kick off the New Year than to spend time with Paul Jacek, a professional Tarot reader for over 25 years on this episode of HIGHRPOWRD®. Tarot is an acient method of divination. 78 cards, in different patterns (spreads) give insight and information to help guide one's decisions.
If you're lucky enough to catch the episode LIVE, Paul may very well draw a card for YOU!
Explains Jacek, (a longtime friend of PromoHomo.TV® Producer/Host Nicholas Snow, "People come to me for three reasons, romance, finance, and hot pants. Meaning…EVERYONE has questions about their love life, their job, and in general, what is happening." He adds, "I love Tarot, but also love working with pendulums, meditation and tea-leaf reading.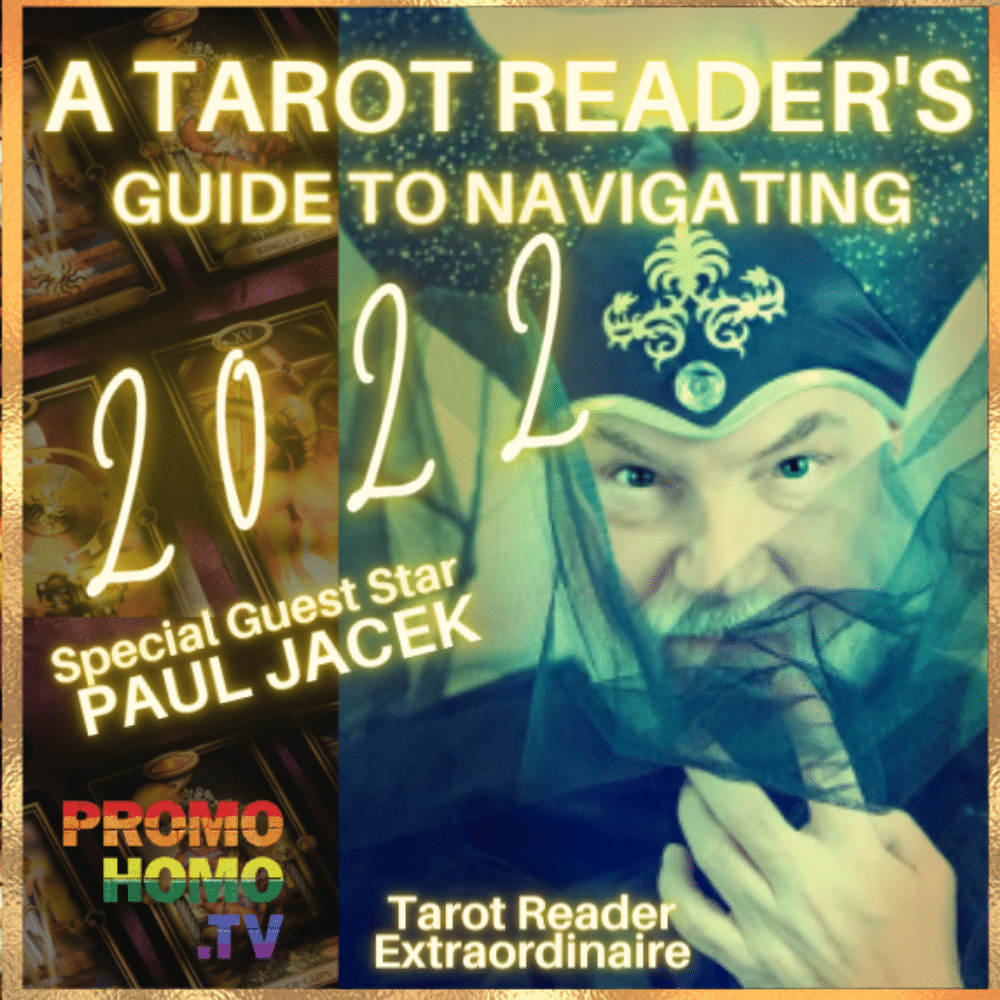 From Denver originally, Paul Jacek has been performing in Los Angeles and beyond for close to 30 years. His one-man show, Tray Tables Up; Secrets of a Beverly Hills Shampoo Boy, ran for a year and was LA Weekly's Pick of the Week.
You have seen him in NBC's Off Their Rockers with Betty White, he was recently the Spiritual Advisor on the LOL Network on Kevin Hart's new show with Anna Kendrick and he wrote for Joan Rivers for How'd You Get So Rich? for TV Land. As an actor, he can also be seen in the Feature Film, Creative Differences on Amazon. A Professional Comedian, he is a regular at the World Famous Comedy Store in Los Angeles and Headlines country wide.
You may book a private reading at www.PaulJacek.com.
ABOUT HIGHRPOWRD®
HIGHRPOWRD® features "Stories of Experience, Strength and Hope, Infusing Infinite Views of Spirituality and Purpose." A key focus of this series is to "take recovery out of the closet," giving people the opportunity to share their triumphant stories without identifying specific 12-step programs (in keeping with the traditions of those programs). Additionally, inspiring thought leaders from all walks of life are featured.
Want an Invite to Nicholas Snow's Exclusive 60th Birthday Party?
Become a PromoHomo.TV® Superstar for as little as $10/Month to score your excluisive invite to Nicholas Snow's 60th Birthday Party. Together we will continue to give the gift of PromoHomo.TV® to the world, "Connecting the Circuitry of Humanity" by "Creating Programming for LGBTQ+ Everyone!" Click here to sign up!
Like/Follow/Subscribe on Your Favorite Social Media Platforms