Scheduled before the tragic, sudden death of beloved actor Leslie Jordan, this episode was to simply promote the upcoming 22nd Anniversary screening of the film SORDID LIVES to benefit The Del Shores Foundation. Now, what was to be simply an anniversary screening is now destined to be a bittersweet celebration of Jordan in his iconic role of Brother Boy.
At the time of this update is is not known if the originally scheduled guests will be joining this episode, as they have truly lost a family member, but "the show will go on" in honor of and in celebration of Leslie, including an encore of a previous interview PromoHomo.TV® producer/host Nicholas Snow conducted with Leslie at the 2017 red carpet premiere of the Sordid Lives sequel, A Very Sordid Wedding. We will also honor the late, great Olivia Newton-John, also prominent in Sordid Lives.
As Originally Promoted:
Stars Rosemary and Newell Alexander and Ann Walker and their creative colleague Emerson Collins join PromoHomo.TV® and Nicholas Snow's Notes From Hollywood® ahead of the 22nd Anniversary Screening of the comedy cult classic SORDID LIVES, which also starred the late, great Olivia Newton-John and the now, ever-so-famous Leslie Jordan. The screening is set for the Palm Springs Cultural Center Saturday, October 29th.
SORDID LIVES is a black comedy about white trash as a gay actor struggles to come out to his eccentric, dysfunctional Texas family. When the family matriarch trips over the two wooden legs of her lover in a seedy motel room, her funeral brings three generations of the family back together in a story about learning to love the family you have as they are, not as you wish them to be.
The film opened at the Camelot Theatres in 2001 and ran for 96 weeks, making it the longest running film in Palm Springs history. The film spawned Sordid Lives: The Series on LOGO in 2008 and the sequel A Very Sordid Wedding in 2017, which had its world premiere at the Camelot Theatres in 2017.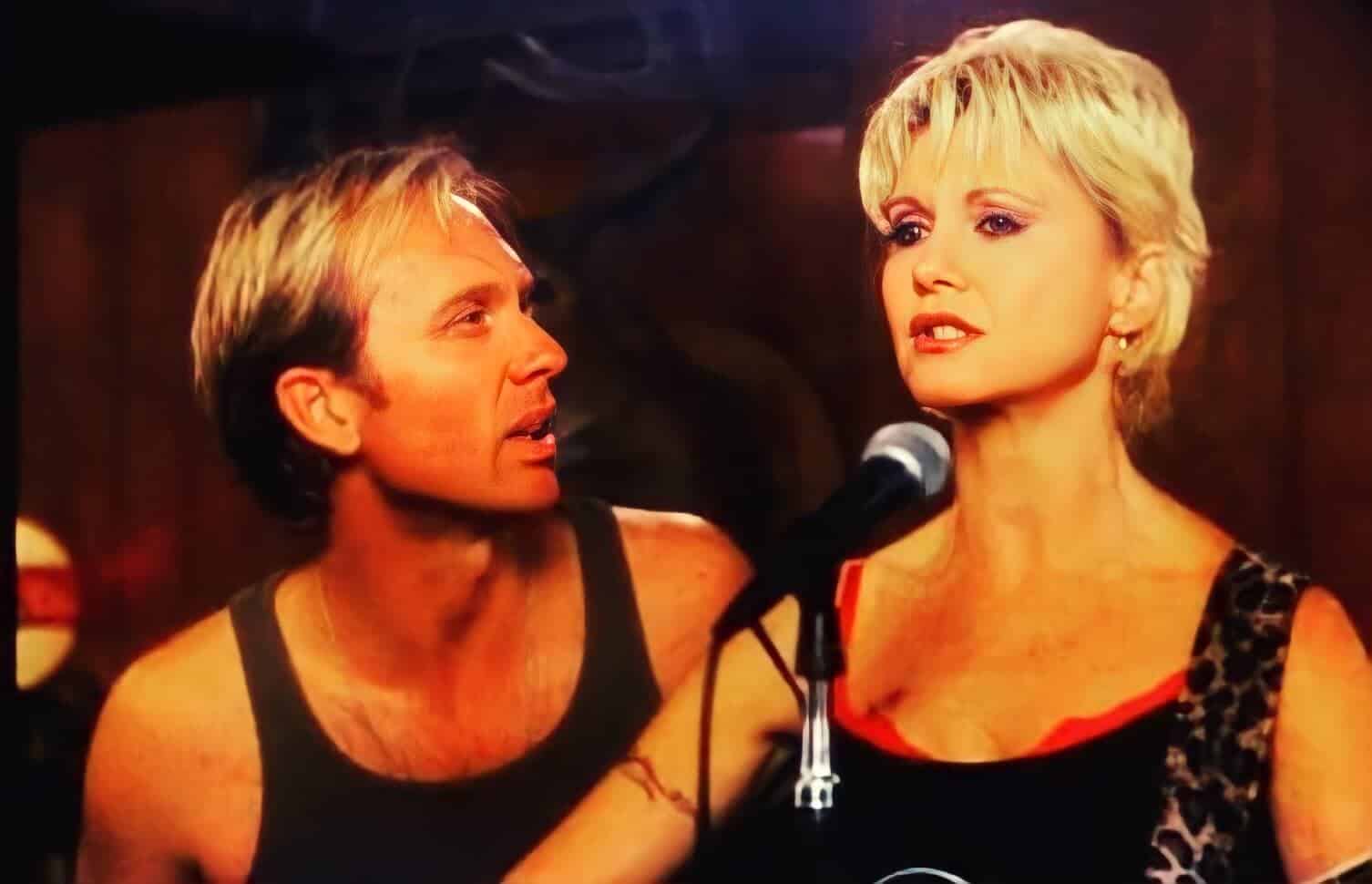 Del Shores Honors Olivia Newton-John
"I think this is my favorite picture with Olivia. Fall of 1999, directing her in SORDID LIVES. She suggested taking the blue gum and putting it on the microphone. So many memories."
The evening will open with a Sordid Lives Costume Contest with prizes for the top three costumes, followed by the screening.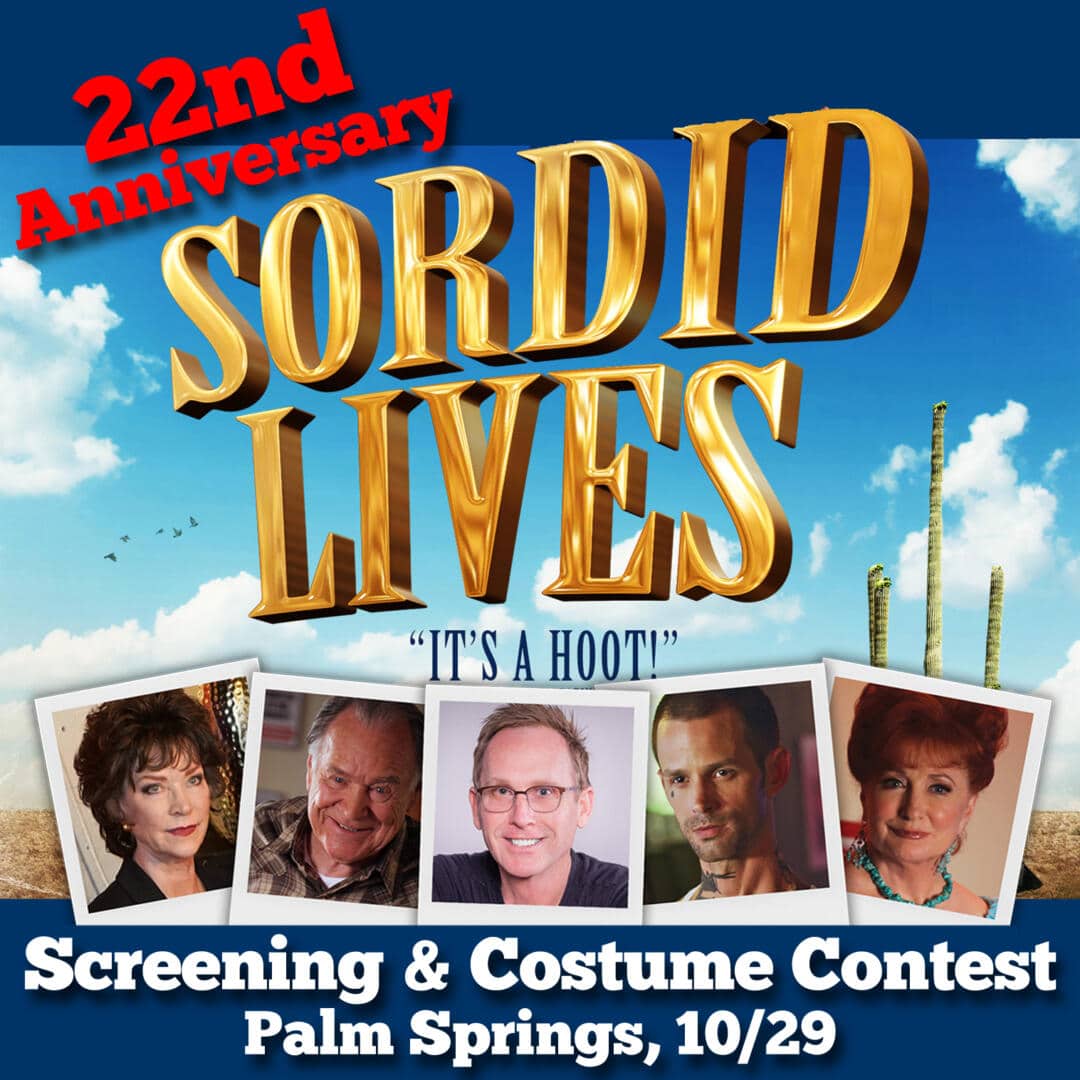 All proceeds from the evening will benefit the Del Shores Foundation and its mission to find and elevate new LGBTQ+ writers living in the South. This year the Del Shores Foundation completed its first Writers Search and awarded over $20,000 in cash awards and production grants. The Foundation hosted the first Del Shores Foundation Writers Festival in Dallas in September. The Writers Festival brought in twelve LGBTQ+ winners and finalists from the Writers Search for a weekend of private workshops, public panels and stage readings of all three winning scripts.  Screenplay winners Serayah Silver and Monet Noelle Marshall will be in attendance at the screening.
ABOUT THE DEL SHORES FOUNDATION
The Del Shores Foundation is a new 501c3 non-profit with a mission to find and facilitate the development of new southern queer artistic voices through bringing together artists and working professionals, amplifying new work and connecting artists to platforms for the creation of the work. For more information on the Foundation, Writers Search and Writers Festival, visit www.delshoresfoundation.org
SORDID LIVES Screening Tickets
General Admission Tickets are $32.09 for the screening and costume contest.
VIP Tickets are $132.09 and include the 6:15pm meet and mingle, fried chicken and mashed potatoes, and first drink free.
Don't miss an episode! Like, Follow and Subscribe…
Become a PromoHomo.TV® Superstar
PromoHomo.TV® is "Connecting the Circuity of Humanity" by "Creating Programming for LGBTQ+ Everyone." All programming may be streamed worldwide for free, but you are encouraged to become a PromoHomo.TV® Superstar by voluntarily subscribing for as little as $10/month.