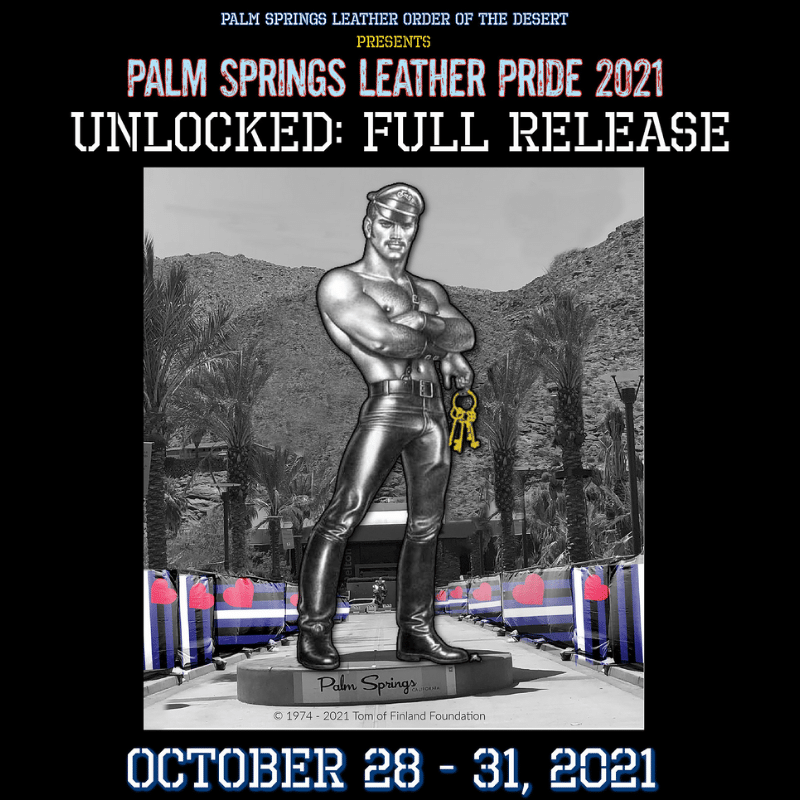 "Unlocked: Full Release" is the theme for Palm Springs Leather Pride 2021 taking place October 28 -31, as revealed in this exclusive PromoHomo.TV® Preview of the world-renowned event.
After over a year of lockdown, the jailhouse doors swing wide open," proclaim members of the Organizing Committee with the presenting organization, Palm Springs Leather Order of the Desert.
Yes, "Palm Springs Leather Pride is back, unleashing a scorching hot weekend of bar and dance events, pool parties, cruising and social favorites, as well as the Mr. Palm Springs Leather Contest. Known around the world as one of the premiere leather events of the year, the inmates will be especially fired up this October, after over a year behind bars, this will be a jail break not to be missed!"
The exclusive PromoHomo.TV Preview is broadcasting from the Revivals After Dark Event Friday, October 8 (6-9 PM in the back alley!). The sale is a fundraiser for Desert AIDS Walk 2021 and Palm Springs Leather Order of the Desert.
Revivals After Dark features racks of resale leather and apparel + adult-themed art, magazines, and books – featuring some of this year's Palm Springs Mr. Leather contestants and opportunities to connect with the community.
Watch, listen and learn.
ABOUT PALM SPRINGS LEATHER ORDER OF THE DESERT
The mission of Palm Springs Leather of the Desert is:
To provide a source of communication and information for compatible and like-minded individuals involved in or actively pursuing an interest in the Leather/SM/Fetish lifestyle. 

To provide a safe atmosphere for growth and support of the Leather/SM/Fetish lifestyle for its the members while nourishing a sense of sister/brother hood and camaraderie within the organization and the community. 

To provide personal support, and interact with other organizations, our Leather/SM/Fetish colleagues, and the community in a manner evidenced by each individual's adherence to the PSLOD Code of Conduct.

To provide information to members and the community on the varied  safe/sane/consensual expressions of the Leather/SM/Fetish lifestyle. 

To provide information regarding the Leather/SM/Fetish lifestyle to the general community, to encourage a positive attitude of acceptance, and increase awareness of our positions, contributions and potential within the community. 

To coordinate with like-minded organizations on a local, regional, state, national and worldwide level. 

To promote with power and pride the right of all adults to engage in safe, sane and consensual sexual expression. 

To raise funds for deserving projects, clubs, organizations, defense funds or charities which have given direct or indirect support to the Leather/SM/Fetish community.   

To preserve a record of our history, traditions and culture. 
Like/Follow/Subscribe on Your Favorite Social Media Platforms