In this episode of Life Positive on PromoHomo.TV®, Producer/Host Nicholas Snow welcomes Mark S. King, author of My Fabulous Disease: Chronicles of a Gay Survivor, an anthology spanning four decades. This interview takes place during King's national book tour and just ahead of his September 13th appearance in Palm Springs, California. (6:30 PM at the Mizell Center, 480 S. Sunrise Way).
In the book's foreword, Greg Louganis writes:
My Fabulous Disease: Chronicles of a Gay Survivor is an anthology spanning four decades – in turns emotional, biting and hilarious – from activist and writer Mark S. King.
The sum of these chronicles is a manifesto of survival. But they also are a portrait of a man giggling through a graveyard. There is a sense of joyful gratitude that permeates even the darkest chapters, a throughline of cheeky optimism that makes the tragedy bearable and the humor uproarious.
My Fabulous Disease: Chronicles of a Gay Survivor divulges King's intimate triumphs and misfires along with glimpses of his Southern family coming to terms with a gay son, his harrowing drug addiction and eventual recovery, and a lifetime spent skating on the cracked ice of HIV.
Palm Springs Event Set for September 13 at Mizell Center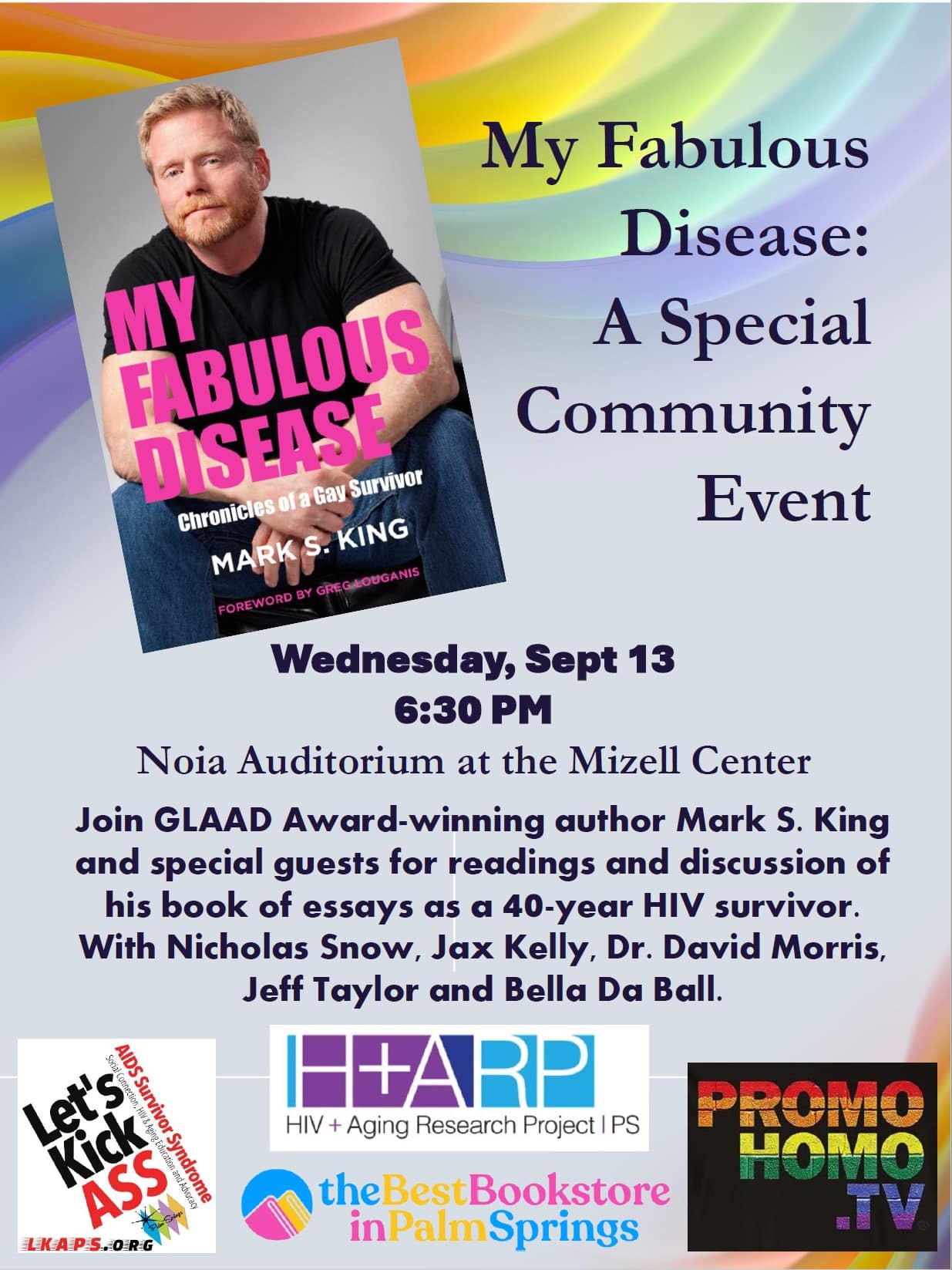 The Palm Springs area signing and reading event will feature readings from the book not only by King himself, but also by:
Jeff Taylor, H+ARP
Jax Kelly, Let's Kick ASS Palm Springs
Bella da Ball, Entertainer and Icon
Dr. David Morris, Desert AIDS Project
Nicholas Snow will host and moderate the panel.
My Fabulous Disease: Chronicles of a Gay Survivor is available in the Palm Springs area at Best Bookstore (180 E Tahquitz Canyon Way), at the Mizell Center the night of the event, and worldwide on Amazon.
For more information, visit www.MyFabulousDisease.com
THE SNOWSTORM IS COMING
The Snowstorm is coming.
It can hit at any time.
But what is it?
As previously announced, I have spent most of the last two months preparing to bring a very busy season of live online television to you and our world, and YOU are among the first to know the following:
The Snowstorm is the new live, televised, panel discussion broadcast about the hottest topics of the day, featuring YOU!
How many times have you been watching a panel discussion show on CNN or MSNBC, or The View or The Talk, and had a lot to say? What if you could beam yourself into the conversation and add your two cents worth?
Well, with The Snowstorm, you can!
How it will work:
The Snowstorm will GO LIVE at any given time (seriously, it could hit at any given time).
People who have subscribed to and set reminders for my YouTube channel will be notified (YouTube.com/PromoHomoTVNewtwork).
To receive links that will allow you to be a video caller into The Snowstorm, sign up at www.Patron.com/PromoHomoTV