On the occasion of Indigenous Peoples' Day 2022, Nicholas Snow welcomes his close friend of over forty years, Patty Talahongva.
Patty Talahongva is Hopi. Her tribe's ancestral lands are in what we now know as northern Arizona. Hopi has the oldest continuously inhabited villages in the United States. Talahongva is a journalist and has worked in all media platforms, and today serves as a senior correspondent with ICT News. She can also be found on Wikipedia.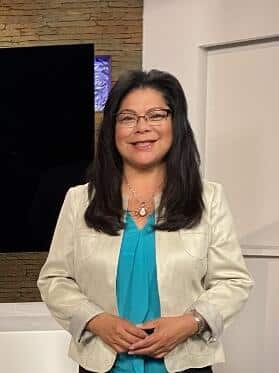 Talahongva's career as a journalist started when she attended the Phoenix Indian School in Phoenix, Arizona. This was one of several schools operated by the federal government with the intention of assimilating Native American children into white society. While the schools evolved, there was always an element of the strict military rules that governed the first years of the boarding school policy. Patty was born in Denver, Colorado because her family went on the "Relocation Program," and moved from the Hopi reservation. This was yet another federal government meant to assimilate American Indians.
Explains President Biden in a 2022 Proclamation this week, "On Indigenous Peoples' Day, we honor the sovereignty, resilience, and immense contributions that Native Americans have made to the world; and we recommit to upholding our solemn trust and treaty responsibilities to Tribal Nations, strengthening our Nation-to-Nation ties.
For centuries, Indigenous Peoples were forcibly removed from ancestral lands, displaced, assimilated, and banned from worshiping or performing many sacred ceremonies. Yet today, they remain some of our greatest environmental stewards. They maintain strong religious beliefs that still feed the soul of our Nation. And they have chosen to serve in the United States Armed Forces at a higher rate than any other group. Native peoples challenge us to confront our past and do better, and their contributions to scholarship, law, the arts, public service, and more continue to guide us forward…
…On Indigenous Peoples' Day, we celebrate indigenous history and our new beginning together, honoring Native Americans for shaping the contours of this country since time immemorial."
Watch. Listen. Learn. Be inspired.
Don't miss an episode! Like, Follow and Subscribe…
Become a PromoHomo.TV® Superstar
PromoHomo.TV® is "Connecting the Circuity of Humanity" by "Creating Programming for LGBTQ+ Everyone." All programming may be streamed worldwide for free, but you are encouraged to become a PromoHomo.TV® Superstar by voluntarily subscribing for as little as $10/month.