Images in this article are from the Mapplethorpe Film Indiegogo Page, now closed after a successful campaign.  Mapplethorpe has landed distribution by Samuel Goldwyn Films.
Nicholas Snow had two brushes with greatness (among many) early during Outfest 2018, the first of which was interviewing Mapplethorpe director/co-screenwriter Ondi Timoner on the opening night red carpet; the second was seeing the film and broadcasting the post-screening Q&A live from the Director's Guild of America Theatre 1.  Both live broadcasts are on-demand below.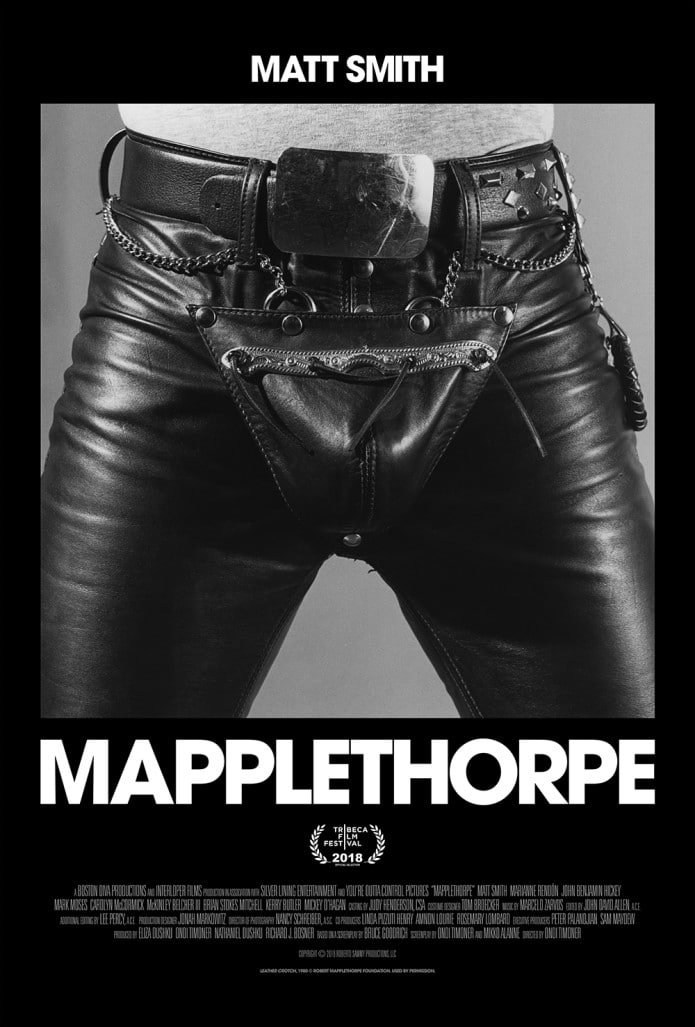 The aforementioned Indiegogo page explains, "Mapplethorpe is a biographical feature film about the iconic artist and cultural iconoclast, American photographer Robert Mapplethorpe.  Famous for his highly stylized black and white photography, his work featured an array of subjects including celebrity portraits, male and female nudes, self-portraits, and images of flowers. His most controversial work is that of the underground BDSM scene in the late 1960s and early 1970s New York City. The homoeroticism of this work fuelled a national debate over the public funding of controversial art. The biopic chronicles his journey as an artist growing up in 1950's Queens, New York.  He relentlessly pursued a career in fine art, gaining recognition as one of the world's most important photographers.  Robert Mapplethorpe died of AIDS at the age of 42 leaving a legacy that has waited three decades for the telling on film."
Opening Night Red Carpet Outfest 2018 | Notes From Hollywood on PromoHomo.TV

LIVE at the Outfest Opening Night from Outfest Los Angeles with Nicholas Snow on the brand new show, #NotesFromHollywood on #promohomotv!WHAT:The 2018 Outfest Los Angeles LGBT Film Festival Opening Night Gala of STUDIO 54. Preceded by the presentation of the Outfest Achievement Award to Angela Robinson.WHO:Outfest Achievement Award recipient Angela Robinson (Professor Marston and the Wonder Women, D.E.B.S.) with presenter Jordana Brewster (D.E.B.S., The Fast and Furious franchise). From STUDIO 54, director Matt Tyrnauer is confirmed to attend the Opening Night Gala. Additional celebrity guests include: Trace Lysette ("Transparent"), MJ Rodriguez ("Pose"), Ryan Jamaal Swain ("Pose"), Ser Anzoategui ("Vida") and Twiggy Pucci Garcon (Kiki), Christine Vachon (Carol, Beatriz at Dinner), Thomas Dekker (A Nightmare on Elm Street, "Heroes"), Dalila Ali Rajah ("Cherry Bomb"), celebrity stylist/influencer Melissa Meister, fashion designer Adrien Sauvage, Jonathan Del Arco ("Major Crimes"), Connor Jessup ("Falling Skies") and Jake Dupree with more to be announced.Additional talent from 2018 Outfest Los Angeles movies include: Alberto Fuguet (Cola de Mono), Alejandro Andrade Pease (Cuernavaca), Alina Skrzeszewska(Game Girls), Amara Cash (Daddy Issues), Clement Goldberg (Our Future Ends), Dante Alencastre ( AIDS Diva: The Legend of Connie Norman), David Castleman("The Strivers"), Filipe Matzembacher (Hard Paint), H.P. Mendoza (Bitter Melon), Limor Shmila (Montana), Natalie Metzger (Alone in the Game), Nate Dushku(Mapplethorpe), Quentin Lee (Shopping For Fangs), Ruth Caudeli (Eva + Candela), Shant Joshi (Porcupine Lake), William Clift (A Long Road To Freedom: The Advocate Celebrates 50 Years), A.P. Gonzalez (Clay Farmers), Alyssa Lerner (Salamagan), Andrew Arnold (The Cocoa Fondue Show), Andria May-Corsinj (Mama Dragons), Anna Martine Freeman (Bathroom Rules), Anne Hu (Cake), Bola Ogun (Are We Good Parents?), Chanelle Tyson (Eden), Chris Phillips (Night Shift),Emma Weinstein (Candace), Erica Rose (Girl Talk), Gianna Gianna (Crying Game), Heather Ács (Flu$h), Jacquie Ray (Tea Bag), Jim Vendiola (Library Hours), Jory Cordy (Grooming Men Under the Falstaff Sign), Kase Pena (Familia?), Lara Aslanian (I'm Just Here), Lisa Donato (Foxy Trot, There You Are), Mahaliyah O (Masks),Marlene Forte (Familia?), Marqueeda LaStar (EveryBody Hurts), Matthew Kaundart (Precious Stones), Max-Arthur Mantle (Visible: The LGBTQ Caribbean Diaspora), Michael Zarowny (Drag Me in Place), Miguel Angel Caballero (Broken Sunflower Hearts), Oates Wu (Love Roars), Omar Al Dakheel (Ablution), Rachel Leyco (Let Love Be), Robert John Torres (Writhing), Ryan Fisher (Enemies of Dorothy), Shani Bernard (EveryBody Hurts), Sherren Lee (The Things You Think I'm Thinking), Silas Howard (Flu$h), Tiffany Johnson (Marabou), Tristan Scott-Behrends (Only Trumpets), and musicians Dorian Electra and Weston Allen.

Posted by Nicholas Snow on Thursday, July 12, 2018
Nicholas Snow interviews Ondi Timoner Live on the Outfest Opening Night Red Carpet
"Mapplethorpe" Film Post-Screening Q&A | Outfest 2018

LIVE at the MAPPLETHORPE Q&A: A look at the life of photographer Robert Mapplethorpe from his rise to fame in the 1970s to his untimely death in 1989. On #NotesFromHollywood on #PromoHomoTV with Nicholas Snow at Outfest. #OutfestLA #ILoveGay

Posted by Nicholas Snow on Friday, July 13, 2018
The Post-Screening Q&A at Outfest 2018
PromoHomo.TV is presented with the support of Desert AIDS Project, Lulu California Bistro, Acqua California Bistro and Eight4Nine Restaurant and Lounge, with additional support on the horizon.  Programming is distributed in partnership with the #ILoveGay campaign.
The editorial mission of programming on PromoHomo.TV is "Connecting The Circuitry of Humanity."  For more information about the history of Snow's Multimedia Entertainment Activism, visit this link.
For Nicholas Snow's movie and television acting clips, visit this link.