Moulin Rouge! The Musical is the winner of ten 2021 Tony Awards including Best Musical, two Drama League Awards including Outstanding Production of a Musical, five Drama Desk Awards and ten Outer Critics Circle Award Honor citations including New Broadway Musical. PromoHomo.TV® Producer/Host Nicholas Snow was LIVE with guest co-host Paul Jacek to cover all the excitement of opening night!
Moulin Rouge! The Musical is the winner of ten 2021 Tony Awards including Best Musical, two Drama League Awards including Outstanding Production of a Musical, five Drama Desk Awards and ten Outer Critics Circle Award Honor citations including New Broadway Musical. 
Moulin Rouge! The Musical opened to critical acclaim at the Al Hirschfeld Theatre in the Summer of 2019 and reopened in September 2021 following the shutdown of Broadway due to the pandemic.
"Spectacular! Euphoric! In Moulin Rouge! The Musical, life is beautiful," raves The New York Times. "Moulin Rouge! The Musical is a fabulous new musical. The high begins the instant you walk into the theatre," said the New York Post. Entertainment Weekly concludes that "it's easy to believe that Moulin Rouge! The Musical could run for 50 years."
Moulin Rouge! The Musical is directed by Tony Award winner Alex Timbersand with a book by Tony Award winner John Logan, choreography by Tony Award winner Sonya Tayeh and music supervision, orchestrations and arrangements by Tony Award winner Justin Levine.
The design team for Moulin Rouge! The Musical includes Tony Award winner Derek McLane (sets), Tony Award winner Catherine Zuber (costumes), Tony Award winner Justin Townsend (lighting), Tony Award winner Peter Hylenski(sound), Drama Desk Award winner David Brian Brown (wig and hair design), Sarah Cimino (Make-up design) and Tony Award winner Matt Stine (Music Producer). Casting is by Jim Carnahan and Stephen Kopel.
Enter a world of splendor and romance, of eye-popping excess, of glitz, grandeur and glory! A world where Bohemians and aristocrats rub elbows and revel in electrifying enchantment. Pop the champagne and prepare for the spectacular … Welcome to Moulin Rouge! The Musical.
Baz Luhrmann's iconic film comes to life onstage, remixed in a new musical mash-up extravaganza. Moulin Rouge! The Musical is a theatrical celebration of Truth, Beauty, Freedom, and – above all – Love. Moulin Rouge! The Musical is more than a musical; it is a state of mind.
As in the film, Moulin Rouge! The Musical celebrates over 160 years of music – from Offenbach to Lady Gaga. The stage musical features many of the iconic songs from the movie, and also includes recent hits released since the movie premiered 21 years ago.
Moulin Rouge! The Musical is produced by Carmen Pavlovic and Gerry Ryan OAM for Global Creatures and Bill Damaschke. General management is by Foresight Theatrical.
Co-producers of the touring production include Aaron Lustbader, Hunter Arnold, Darren Bagert, Erica Lynn Schwartz/Matt Picheny/Stephanie Rosenberg, Adam Blanshay Productions/Nicolas & Charles Talar, Iris Smith,Aleri Entertainment, Sophie Qi/Harmonia Holdings, CJ ENM, Len Blavatnik,Ambassador Theatre Group, Endeavor Content, John Gore Organization, Spencer Ross, Gilad-Rogowsky/InStone Productions, AF Creative Media/International Theatre Fund, Nederlander Presentations/IPN, Cody Renard Richard, Jujamcyn Theaters, Eric Falkenstein/Suzanne Grant, Peter May/Sandy Robertson, Tom & Pam Faludy, Triptyk Studios, Carl Daikeler/Sandi Moran, Desantis-Baugh Productions, Red Mountain Theatre Company/42ND.CLUB, Candy Spelling/Tulchin Bartner, Roy Furman,Andrew & Ruby Ryan, Brent & Sarah Deboer and Michael Ryan.
Released by 20th Century Fox, Baz Luhrmann's MOULIN ROUGE! premiered at the 2001 Cannes Film Festival. At the 74th Academy Awards, the film was nominated for eight Oscars, including Best Picture, and won two.
The Moulin Rouge of Paris, managed by Jean-Jacques Clerico (CEO), is a dazzling and spectacular universe, the symbol of the Parisian way of celebrating since 1889. Starting life as a popular cabaret and dance hall, the venue became an iconic music hall in the Roaring Twenties, and then a theatre where numerous famous French and international artists stepped out into the limelight. Today, the Moulin Rouge and its 60 artists present the Féerie revue show: two hours of amazement between cabaret and music hall styles where dance scenes and surprise acts intersperse – without forgetting the Moulin Rouge's most emblematic dance, the French Cancan! Since its creation, the Moulin Rouge of Paris has always been an invitation to live and share all the emotions and effervescence of a unique party extravaganza. http://www.moulinrouge.fr/
The Grammy-nominated Moulin Rouge! The Musical Original Broadway Cast Recording, produced by Baz Luhrmann, Justin Levine, Matt Stine & Alex Timbers, is now available by Baz Luhrmann's label, House of Iona, and RCA Records. The album debuted at #1 on Billboard's Cast Album chart.
MAC is the Official Makeup Partner and Preciosa is the Official Crystal Partner of Moulin Rouge! The Musical.
Don't miss an episode! Like, Follow and Subscribe…
ABOUT BROADWAY IN HOLLYWOOD's new 2022-23 Season…
…entitled SIMPLY THE BEST – the first full season announcement in two years, consisting of eight Broadway national tour productions which will play both the Pantages and Dolby Theatres in Hollywood.
Broadway in Hollywood President Jeff Loeb states, "Since reopening our doors to audiences this past August, the cheers resonating from our packed houses at both the Hollywood Pantages and Dolby Theatres remind us of one simple fact: L.A. theatergoers are ready for even more – and we've got more in store! How fitting that in the middle of Women's History Month, we get to introduce to you all a brilliant lineup of shows featuring bold, inspirational, multi-faceted women from all walks of life. Broadway has returned Home to Hollywood, with a season that is SIMPLY THE BEST."
The new 2022-23 Season will boast six direct from Broadway hits, all celebrating their L.A. Premieres at the Hollywood Pantages Theatre, including JAGGED LITTLE PILL – featuring music by Grammy Award-winner Alanis Morissette, the history-making new play Harper Lee's TO KILL A MOCKINGBIRD – written by Academy Award Winner Aaron Sorkin, Tina Fey's Tony-nominated smash hit MEAN GIRLS, the global smash hit SIX – an exuberant celebration of 21st century girl power five hundred years in the making, TINA – The Tina Turner Musical – about the life of the living music legend herself, and BEETLEJUICE – the hilarious smash hit musical based on the 1988 Tim Burton film.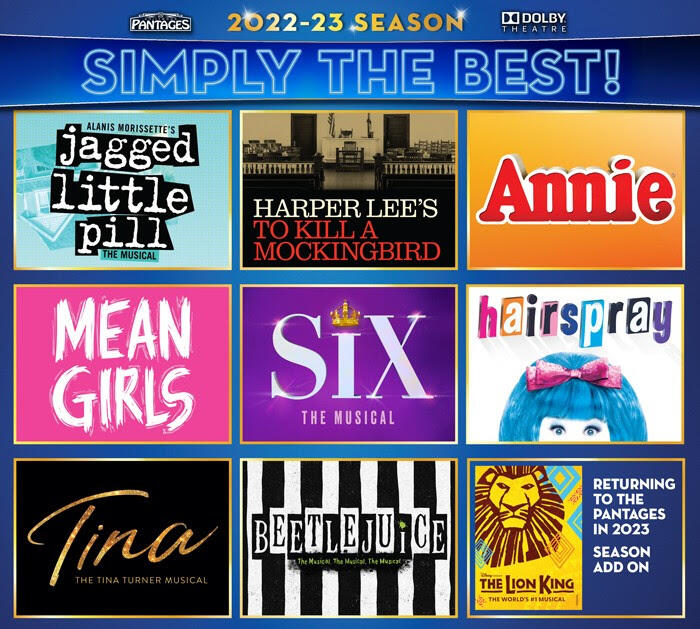 The Dolby Theatre will play host to two long-awaited, tried and true Broadway classics – both back by popular demand: ANNIE – the classic family Broadway musical, and HAIRSPRAY – featuring Andrew Levitt, known to audiences as Nina West (RuPaul's Drag Race, Disney+ "This Is Me" Pride Celebration) as Edna Turnblad.
As an added bonus to their season announcement, Broadway in Hollywood and the Hollywood Pantages Theatre are proud to welcome home Disney's THE LION KING, which returns after a ten year absence in Los Angeles. The production's 2023 engagement marks the 4th Los Angeles engagement of this ground-breaking production at the Hollywood Pantages Theatre. More than 100 million people around the world have experienced the awe-inspiring visual artistry, the unforgettable music, and the uniquely theatrical storytelling of this Broadway spectacular – one of the most breathtaking and beloved productions ever to grace the stage.
Tickets are available for purchase online at www.BroadwayInHollywood.com or www.Ticketmaster.com. Tickets may also be purchased by phone at 800-982-2782. The Dolby Theatre Box office is located at 6801 Hollywood Boulevard and the Hollywood Pantages Theatre box office is located at 6233 Hollywood Boulevard. For current box office hours, visit www.BroadwayInHollywood.com.
About Broadway in Hollywood
The curtain rose on BROADWAY IN HOLLYWOOD in February of 2019, to welcome the Best of Broadway in the Heart of Hollywood. As the foremost presenter of first-class touring productions in Los Angeles, BROADWAY IN HOLLYWOOD welcomes over a million people annually to two iconic theatres, the Hollywood Pantages and the Dolby Theatre. BROADWAY IN HOLLYWOOD presents the hottest shows on the world's most famous boulevard. Hollywood History is happening nightly.
About The Hollywood Pantages Theatre
The Hollywood Pantages is part of The Nederlander Organization, which owns or operates venues on Broadway and in Chicago, San Diego, San Jose, Tucson, Durham, Oklahoma City, N. Charleston, Greensboro, Washington D.C., and London. The Hollywood Pantages is the foremost theatre of first-class touring productions in Los Angeles. Presentations include Hamilton, Disney's The Lion King, Wicked, The Book of Mormon, and The Phantom of the Opera.
About The Dolby Theatre
Opened in 2001, the 180,000-square-foot, 3,400-seat Dolby Theatre® with cutting edge technologies sets the stage for entertainment technology as a host of the world's biggest movie premieres, events, and performances. Dolby Theatre is an ongoing showcase for the latest innovations in Dolby entertainment technology, including Dolby® Atmos™, a breakthrough audio technology that delivers a natural, life-like sensory experience. Dolby Theatre also features Dolby 3D, a state-of-the-art imaging solution that provides audiences with a superior 3D experience. Dolby Theatre is located within Hollywood & Highland®, which consists of over 640,000 square feet of space featuring national, regional and local retail tenants, a variety of restaurants, several of Hollywood's hottest nightclubs, a six screen state-of-the-art cinema adjacent to the world-famous TCL Chinese Theatre and the 640 room Loews Hollywood Hotel.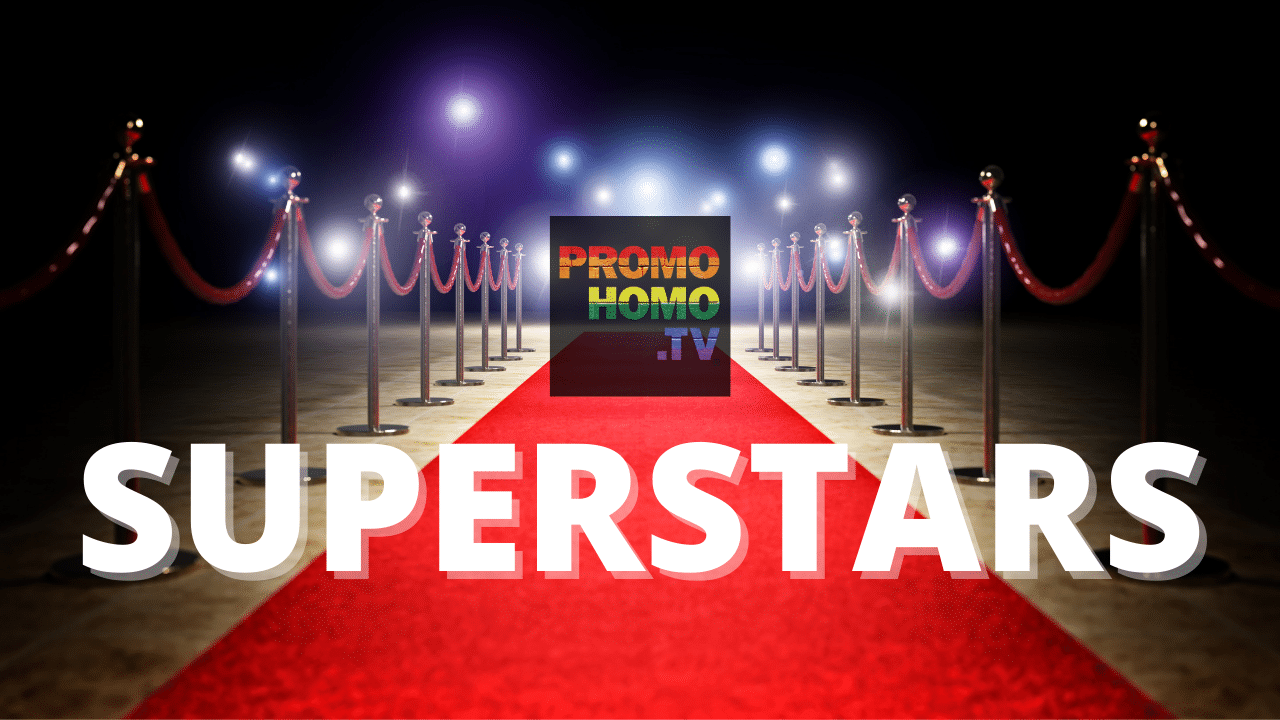 ABOUT PROMOHOMO.TV®
PromoHomo.TV® is a viewer-supported online television network with the mission of "Connecting the Circuitry of Humanity" by "Creating Programming for LGBTQ+ Everyone!"
All content is free across social media platforms, but the PromoHomo.TV® Superstars are people who support this vital work by subscribing for as little as $10/month. Subscribe now at this link: