The Sculpture was Unveiled Sunday, June 20th with a Large Showing of Support and Few Protestors
The Official Unveiling Ceremony for the 26′ tall "Forever Marilyn" sculpture of the Hollywood Icon by Seward Johnson was broadcast live, in its entirety, on Hot In Palm Springs, a series on PromoHomo.TV® from Producer/Host Nicholas Snow
(See the broadcast below. Apologies for the audio issues. Note, this broadcast features significant crowd shots. A handful of protesters placed themselves strategically with signs, but you'll see they are dwarfed by the largely supportive crowd).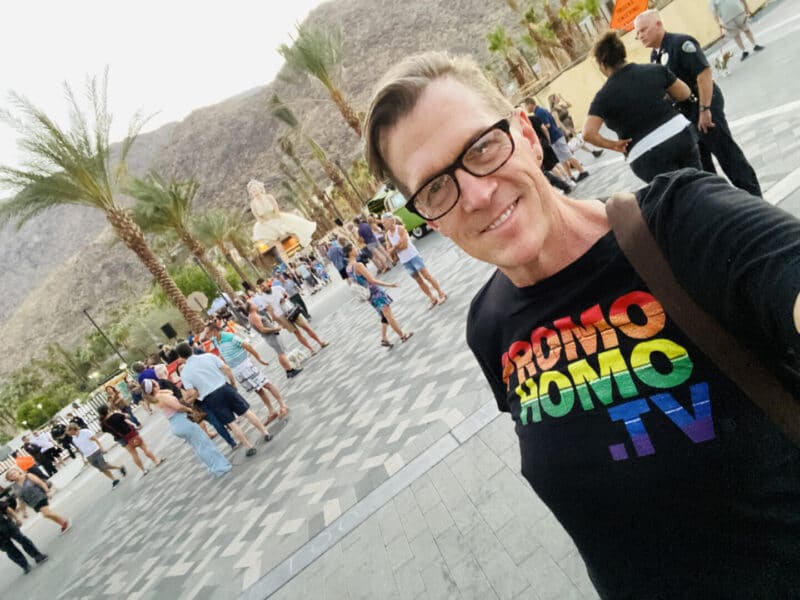 From an Official Press Release (although Nicholas Snow was there, has reserached the story, and concurrs):
P.S. Resorts – the nonprofit organization made up of Palm Springs hoteliers that purchased and installed a 26-foot sculpture of Marilyn Monroe in Palm Springs – released today the results of an independent study revealing overwhelming support for the sculpture despite a number of news stories highlighting a small group of protestors.
While the protests have been the focus of some headlines, the Palm Springs Police Department reported that – at the unveiling ceremony for "Forever Marilyn" by Seward Johnson on Sunday, June 20th – there were few protestors that attended the event contrary to what has been stated in the media.
"The limited number of protesters at the event Sunday evening paled in comparison to the overall amount of people attending the event," said Captain Mike Kovaleff with the Palm Springs Police Department (PSPD). "PSPD estimated that the amount of people protesting was somewhere around 5-10 percent of the estimated 500 people attending. PSPD was also not involved in any type of enforcement activity at the peaceful ceremony and worked to ensure that all those attending remained safe and hydrated while they watched the unveiling."
Chairman of P.S. Resorts – Aftab Dada – added that the response to "Forever Marilyn" returning to Palm Springs has been extremely positive. "In reviewing multiple discussions on social media such as the Palm Springs Neighborhood Group on Facebook and NextDoor, most of the comments convey excitement about 'Forever Marilyn's' return. The headlines we've been seeing don't truly reflect the collective sentiments of the visitors and residents of our community. Most people are thrilled that she has come back to Palm Springs."
Research conducted by Moore Information Group among Palm Springs resident voters confirms the overwhelming support of the return of "Forever Marilyn." The results of the independent study are as follows:
Total support 70%
Total oppose 24%
No opinion 6%
Total that agree the statue will help promote Palm Springs around the world as a fun destination to visit 75%
Total disagree 21%
Don't know 4%
Total that agree the statue will be a fun and free attraction for visitors and residents of Palm Springs 86%
Total disagree 12%
Don't know 2%
Total that agree the statue will help local businesses 76%
Total disagree 16%
Don't know 8%
Total that disagree with the statement: "The statue is offensive and should not be displayed in Palm Springs." 83%
Total agree 13%
Don't know 4%
"Forever Marilyn" – inspired by the famous moment when Marilyn Monroe appeared with her white dress billowing aloft – made her initial Palm Springs debut on May 14, 2012 for a 2-year exhibit. The sculpture was described as a 'tourism phenomenon' during its first placement in downtown Palm Springs, attracting a steady stream of visitors daily and generating millions of dollars in local retail sales and media coverage in support of Palm Springs' tourism industry.
"The return of 'Forever Marilyn' will bring a huge economic boost to our small businesses, who have experienced a challenging year and a half due to COVID restrictions," said City Councilmember Geoff Kors. "The City Council is doing everything we can to support our local businesses on the road to recovery and we are excited to partner with P.S. Resorts to return Marilyn back to downtown Palm Springs."
In 1949, at age 22, Marilyn was "discovered" in Palm Springs at Charlie Farrell's Racquet Club by William Morris talent agent, Johnny Hyde. Many famous photos of Marilyn were taken around the Racquet Club's swimming pool. In the 1950s, she was a regular visitor to Palm Springs with her husband, baseball luminary Joe DiMaggio.
End of Official Press Release
MANY ARE MISSING THE POINT, WHICH IS…
The protests completely against the statue by many and simply against the location by others, as well as approval of the Forever Marilyn's return by 70% of those surveyed (as reported in local news broadcasts) is testament to the power of art as well as the artist's original intent:
"With his Icons Revisited series, sculptor Seward Johnson captures images that have held their impact over generations, becoming embedded in our collective subconscious. This series asks the viewer to consider why certain images stay with us, and how their meaning changes over time."
Did you get that? "This series asks the viewer to consider why certain images stay with us, and how their meaning changes over time."
On the eve of the unveiling, Nicholas Snow reported from the scene to outline the controversy and offer his personal perspective. FYI, because of a camera issue, there is a a long pause in this broadcast. If you are still watching at this point, just skip ahead to about 21:52 into the video.
No doubt, this story will continue to unfold as we "consider why certain images stay with us, and how their meaning changes over time," not only in our collective subconscious, but very much in our current, evolving, public consciousness.
"Forever Marilyn" is destined to be Forever in Palm Springs.
For more information, go to www.PalmSpringsForeverMarilyn.com, or follow the exhibit on Facebook at www.Facebook.com/PSResorts.