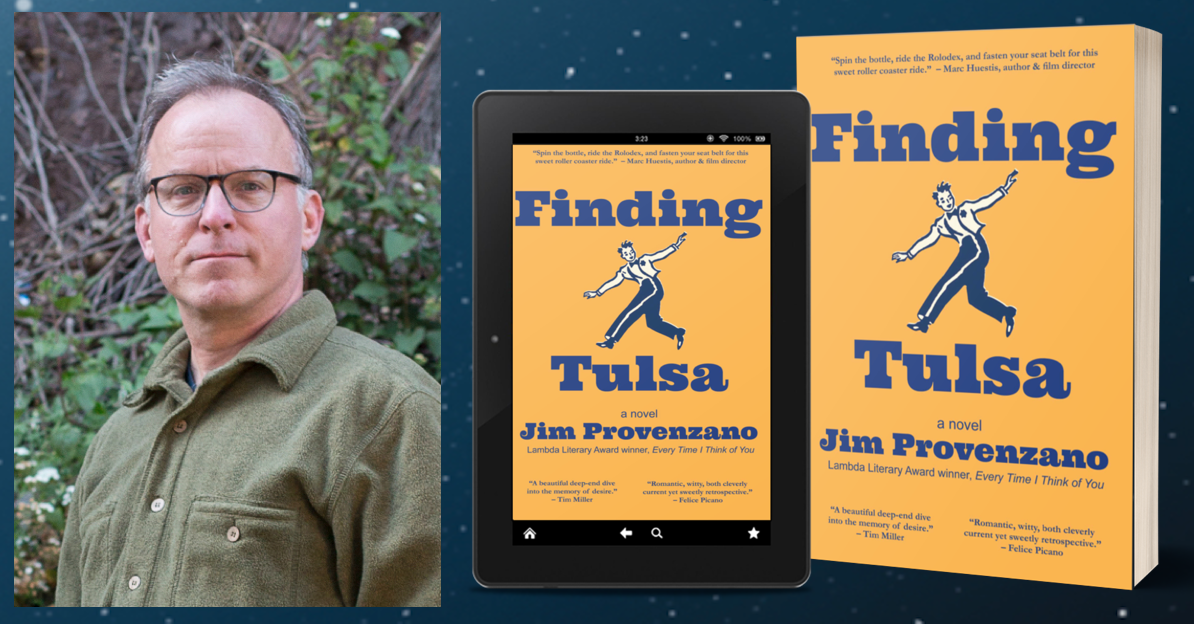 Meet Jim Provenzano, the author of the new novel, Finding Tulsa (Palm Drive Publishing), as well as Now I'm Here (Beautiful Dreamer Press), the Lambda Literary Award-winning Every Time I Think of You, its sequel Message of Love (a Lambda Literary Award Finalist), the novels PINS, Monkey Suits, Cyclizen, the stage adaptation of PINS, and the short story collection Forty Wild Crushes. Audiobook adaptations include PINS (Paul Fleschner, narrator), Every Time I Think of You, and its sequel Message of Love (Michael Wetherbee, narrator).
Born in New York City and raised in Ashland, Ohio, he studied theatre at Kent State University, has a BFA in Dance from Ohio State University and a Master of Arts in English/Creative Writing from San Francisco State University. A journalist, editor, and photographer in LGBT media for three decades, he lives in San Francisco. 
"Finding Tulsa" Synopsis
Stan Grozniak, director of '90s B-movies and art films, almost self-sabotages a prestigious directing gig after casting his rediscovered teenage summer stock crush. Still haunted by the death of Rick Dacker, the sexy star of his cult action trilogy, Stan attempts a romance with actor Lance Holtzer, his 'Tulsa' from a smalltown Ohio production of the musical Gypsy. Discovering more about himself than he wants to admit, he traces his recent success with past obsessions, including a traumatic teenage encounter with an overly affectionate uncle. Framed through a visit to Stan's boyhood home, the tale of his rise to cinematic success –and the sacrifices he made– captures the passion and heartache of making love, making movies, and the occasional riot.
For more information on Finding Tulsa, visit www.jimprovenzano.com.