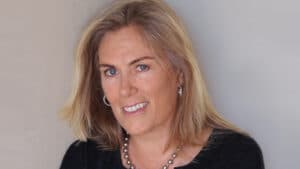 Lesbian Game Changer Robin Lowey is featured on this episode of #NotesFromHollywood with #PromoHomoTV Producer/Host Nicholas Snow.
Lowey is author and designer of the award-winning book Game Changers – Lesbians You Should Know About and co-creator of the short film series Game Changers – Impacting LGBTQ Culture.
The Lesbian Game Changers project's mission is to educate young adults by providing schools with valuable resource books and films that help fill the gap in education about lesbian history and foster an atmosphere of LGBTQ+ visibility, inclusion, acceptance and pride. Game Changers is a fun, inspirational and informative history book and film series featuring modern-lesbian role models whom helped shape today's queer culture.
After creating the book and donating it to every public high school in the San Francisco Bay Area—reaching more that 300,000 students in over 300 schools—Robin had a new idea. Teaming up with filmmaker Eliza Karlson of Karlson Studio, she began work on a 12-part short film series as an adjunct to the book. These films will be a free resource for students to learn about some of the women in the book as well as additional heroes.
The founder and editor of Epochalips -Smart Lesbian Commentary since 2010, Robin is also a member of the LGBTQ Speaker's Bureau. A pioneering lesbian mom with two grown sons, she is often invited into local high schools as a guest lecturer to help dispel myths about LGBTQ people. Honored in Go Magazine's 100 Women We Love issue, Robin was a featured speaker at Talks at Google and the Michelle Meow Show on The CW Network. Robin's work donating Game Changers books to local schools was covered on CBS news during their Pride Special Report in June, 2020.
@ILoveGayLGBT @LesbianGameChangers @rlowey #PromoHomoTV #NotesFromHollywood #filmmaker #documentary #author
Visit www.lesbiangamechangers.com for more info.