Palm Springs Pride organizers announced the 2022 theme 'Say Gay' as a challenge to fight extremism at the ballot box this November. A traditional slate of in-person Pride events is scheduled for the 36th annual LGBTQ celebration on November 4 – 6. The Pride parade and festival featuring multiple stages of live entertainment and an exhibitor marketplace will return to downtown Palm Springs.
Producer/Host Nicholas Snow and guest co-hosts Jonathan Mugridge, Delfina Zarate and Clifton Tatum once again bring you the Official Palm Springs Pride Parade Broadcast streaming exclusively on the social media platforms of PromoHomo.TV®. For in-person live commentary, find the foursome along the parade route in their official broadcast booth in front of EIGHT4NINE Restaurant and Lounge at 849 N. Palm Canyon Drive.
Pride Week, presented by the City of Palm Springs, is the largest annual event in Palm Springs. It's also the largest gathering of LGBTQ people in the Coachella Valley. In 2021, Pride Week attracted over 160,000 attendees and generated a significant $30 million economic impact for area hotels, shops, restaurants, and other local businesses. Favorite bars and local businesses will be packed and spilling out onto the streets for the biggest LGBTQ street party in Palm Springs.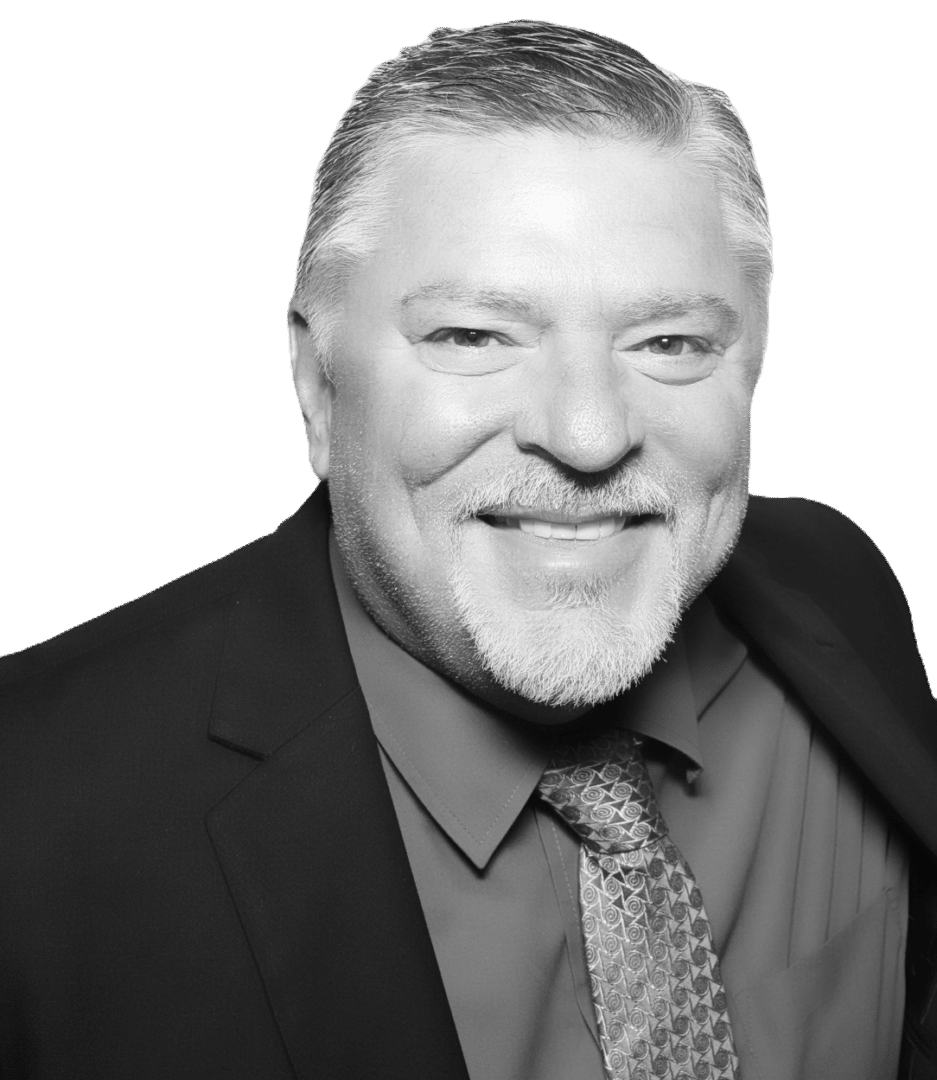 Palm Springs Pride president and CEO Ron deHarte said, "Say Gay is a theme, it's a political statement, it's a call to action. Mobilize your friends, family, neighbors, and workplace to vote for politicians that stand up and fight for LGBTQ rights. Say Gay No to politicians taking away control of our bodies and silencing teachers from recognizing the existence of LGBTQ+ people to their students." "In facing adversity and staring directly at the threats to our rights, we gather in protest and celebration. In doing so, we knock on the door of justice and fight for our freedom," added deHarte.
A Festival highlight is the Electric Revolution Live (ERL), showcasing an inclusive future of mobility, sustainability, and green energy. Connecting the LGBTQ+ communities with smart and sustainable mobility options, ERL brings a full range of electric vehicles to Palm Springs Pride, from scooters and bikes to cars and trucks, as well as exciting demonstrations and fun races on the streets near Palm Canyon Drive. Electric Revolution Live is presented in partnership with The Motor/Cycle Arts Foundation, Dash Radio, and Palm Springs Pride. Plus, Dash's Metaverse Studio, DXSH, is creating a parallel virtual Pride experience for fans worldwide, a music and motorsports virtual experience simultaneous with real-life Pride events for the first time. The Arenas District remains the Gateway to Pride and the pedestrian-only social center of LGBTQ-friendly bars, restaurants, and shopping. The Recovery Oasis, a place for sobriety fun, and the DAP Health Wellness Pavilion are new to the festival. Another new featured location is the QueerWorks TransPower Lounge, a unique space that will provide a safe and affirming environment within the festival for transgender, non-binary and intersex individuals. Festival features include a Youth Zone presented by US Bank, Children's Garden presented by Nissan, The Art of Pride presented by Eisenhower Health, 200 back-to-back exhibitors, community groups, and food and beverage stations. There's something for everyone in Palm Springs.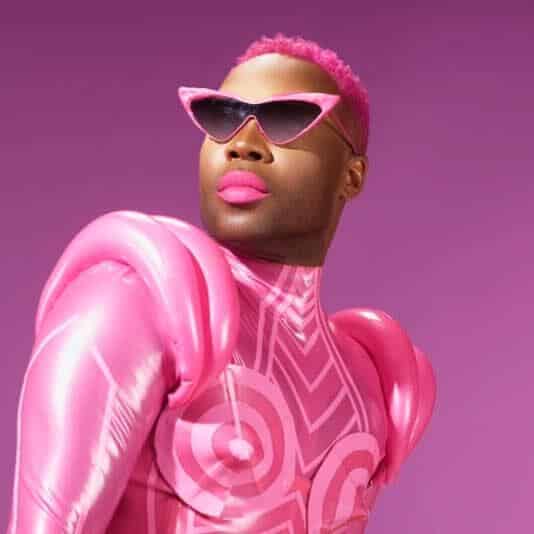 Todrick Hall and Pussy Riot Headline the Entertainment Lineup
Todrick Hall, Pussy Riot, Tanzer, Polartropica, Jake Zyrus, and Ballet Folklorico Proyecto Trans Latina top the 36th annual Greater Palm Springs Pride Festival lineup. The Festival, a highlight of Pride Week, will celebrate and embrace theregion's diverse LGBTQ+ community from November 1-6 in downtown Palm Springs. (Image of Todrick Hall courtesy of his Official Facebook Page)
Todrick Hall, the fiercely independent pop cultural phenomenon, headlines the Festival on Saturday, Nov. 5, and sets the stage for an unprecedented and diverse group of LGBTQ+ performers in the Palm Springs Pride lineup. Conceptual artist and activist Nadya Tolokonnikova, the founding member of Pussy Riot, a global feminist protest art movement, will be the headliner Sunday, Nov. 6. Pussy Riot stands for gender fluidity, inclusivity, matriarchy, love, laughter, decentralization, anarchy, and anti-authoritarianism. Nadya, the lead member, was sentenced in 2012 to two years imprisonment following an anti-President Vladimir Putin performance. Direct from Australia, singer, DJ, artist, and proud queer community member Tanzer performs Saturday, Nov. 5. Tanzer is known for her cinematic, high-glamour, escapist works that are intensely powerful and darkly humorous.
The Truly Vodka Main Stage opens Friday night, Nov. 4, with Dash Radio's Tropical Oasis featuring the LGBTQ+ community's best-emerging talent. The Tropical Oasis features Los Angeles-based galactic dream pop artist Polartropica, recently crowned LA Weekly's Best Indie Pop Band. With songs described as a gumbo of soul, funk, pop, and camp, Tolliver joins the lineup that includes Lucy and La Mer with their message of self-acceptance and positivity. The West Hollywood-based electronic rock/pop band with a grungy edge, Glass Battles, and an appearance by Sassy Rossand host Bella da Ball complete the Friday lineup.
Other highlighted acts include Filipino pop star and transgender icon Jake Zyrus, BETTY, the award-winning indie rock trio, and Ballet Folklorico Proyecto Trans Latina, a group of six Trans-identified women showcasing their highly choreographed and colorful traditional Mexican Folklorico. The new Oscar's Pride stage on Tahquitz Canyon Way will feature Keith George – The Boy George Experience, performances by Mimosa Men, Bitchiest Brunch, and others.
Artists in the 2022 lineup include:
One More Time: A Tribute to Daft Punk
WANNABE: Tribute to Spice Girls
The Robyn Party is the original and longest-running tribute dance party to the Swedish pop icon, Robyn.
Palm Springs Gay Men's Chorus
Steven Michael's Dance Machine
Z LaLa, a pop singer and a Palm Springs Pride favorite, is known for her ability to sing in 21 languages
Aura Van Dank
Sheena Wolfe
Weekend host Bella da Ball
DJs in the weekend lineup include Femme A, Ray Rhodes, Modgirl, Mr. D, Aaron C, Vaughn Avakian, Millennium, Galaxy, Eric Ornelas, Zareen, and DJWaide.
Grand Marshals to "Say Gay" and lead the Palm Springs Pride Parade
Greater Palm Springs Pride announced today that four individuals and one national organization would serve as the Grand Marshals for the annual Pride parade scheduled for November 6 in Palm Springs. Recognizing their achievements and community service, PFLAG is the National Grand Marshal, Rev Benita Ramsey is the Grand Marshal, Willie Rhine is the Community Grand Marshal, and Chef Andre' Carthen is the Celebrity Grand Marshal of the 2022 Greater Palm Springs Pride Parade. The theme of the 2022 Festival and Parade is Say, Gay.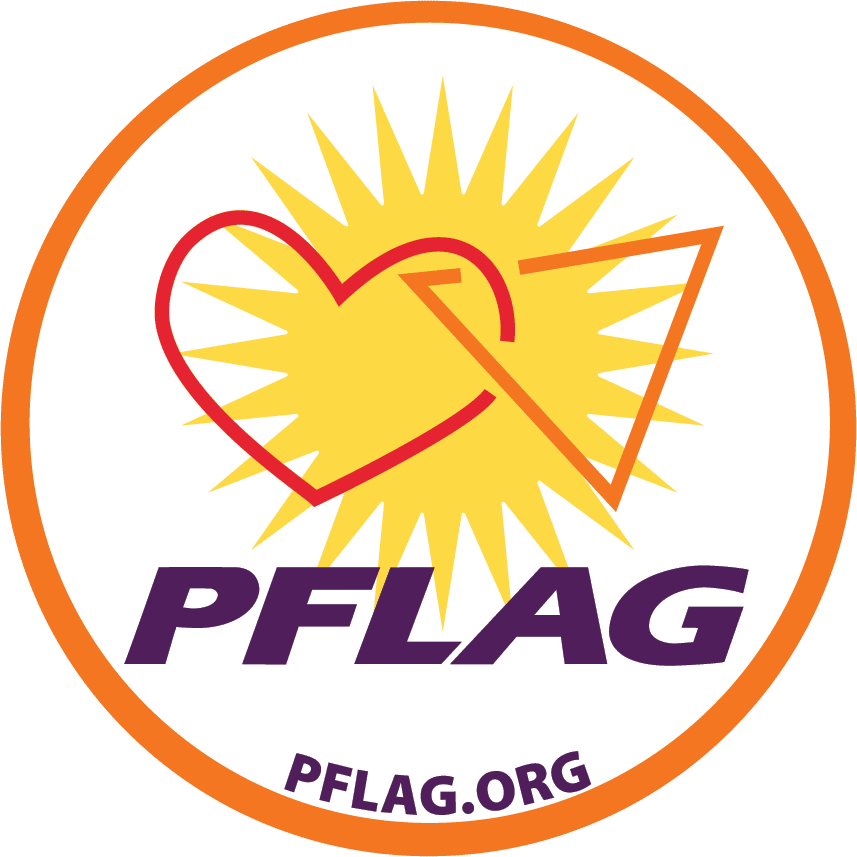 PFLAG is the first and largest organization dedicated to supporting, educating, and advocating for LGBTQ+ people and their families. Leading up to the 50th Anniversary of their first meeting organized by its founder Jeanne Manford, PFLAG is celebrated as the National Grand Marshal. PFLAG's network of hundreds of chapters and more than 325,000 members and supporters works to create a caring, just and affirming world for LGBTQ+ people and those who love them. 
The 2022 Grand Marshal is Rev Benita Ramsey (they/them/she). A gifted Spoken Word Artist and wordsmith, Benita is a third-generation Pentecostal-style storyteller and preacher. Rev Ramsey is a justice and culture strategist and practitioner, a spiritual director, and a lover of books, words, rhythms & beats. They are an ordained minister and Pastor at Unity Fellowship Church-IE. They serve as a program support manager for the Inland Empire HIV Planning Council and executive director of Rainbow Pride Youth Alliance.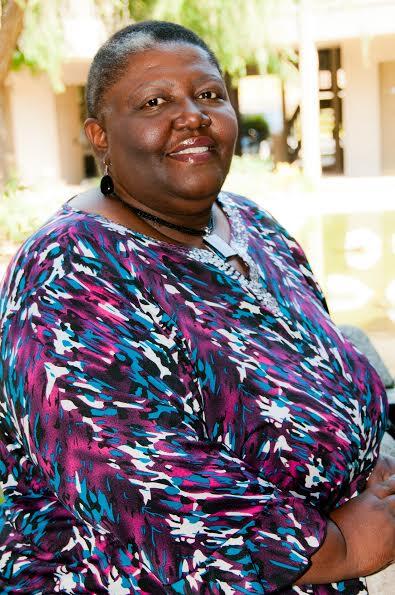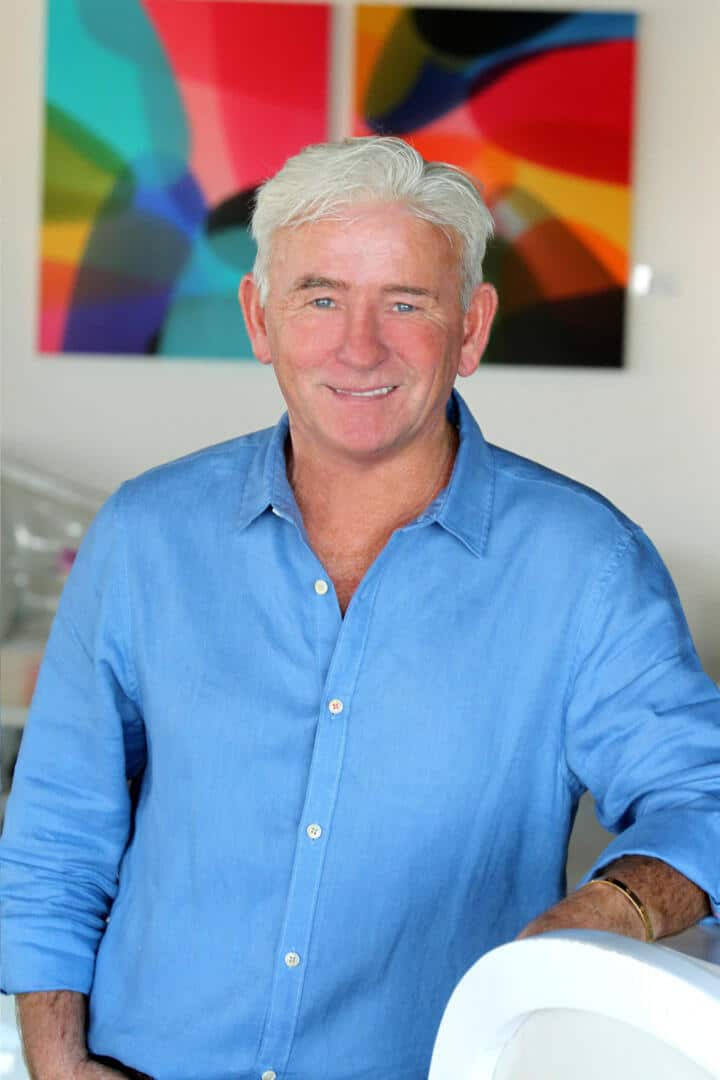 Willie Rhine (he/him/his), a 30-year resident of Palm Springs who is actively involved in the community and always says yes when asked to help, is celebrated as the Community Grand Marshal. Two of Rhine's favorite words are "Be Nice." Willie discovered the joy of being nice and giving back in the early 90s when he volunteered his time and donated his construction skills working hands-on with HIV patients at the Special Care Unit at Desert Regional Medical Center. Rhine is the co-owner of two successful eateries in Palm Springs, EIGHT4NINE Restaurant and Lounge and 1501 Uptown Gastro Pub. EIGHT4NINE Restaurant and Lounge has helped raise hundreds of thousands of dollars for charities large and small. 
Chef Andre' Carthen (he/him/his) is recognized as the Celebrity Grand Marshal. From working with Vanessa Williams on Broadway to television & movies with Halle Berry and now in the kitchen, Chef Andre' Carthen, a.k.a. the Fit Chef, is featured in Kathy Ireland's book "Real Solutions for Busy Moms: Your Guide to Success and Sanity," and Janet Jackson's book, NY Times #1 Best Seller "True You" where he contributed over 30 recipes for a healthy meal plan. Chef Andre' is the only African American appointed to the Nutrisystem Success Chef's Council. Chef Andre' has proudly worked with Kathy Ireland, a leading force for diversity, equal rights for all, and continuing the fight against HIV AIDS for over 30 years. He was recently the guest chef for St. John's Hospital's Gala "Beyond the Stars" at the Ronald Reagan Presidential Library.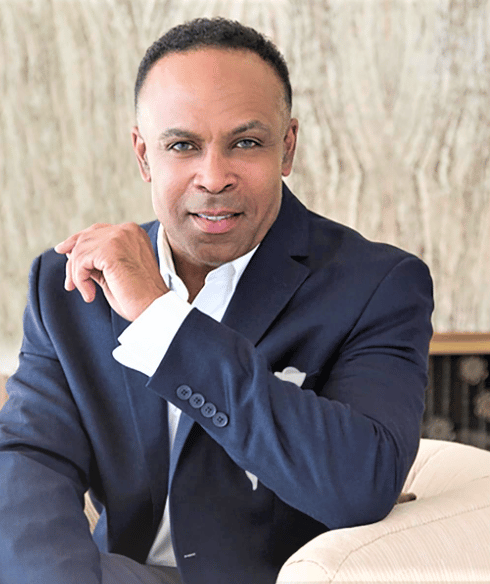 "The Grand Marshals stand out in their professions and are among the valley's most active advocates for equality, diversity, and living their life lifting others," said Ron deHarte, president and CEO of Greater Palm Springs Pride. Bestowing the Grand Marshal designation recognizes the recipient's collective work of spreading messages of unity and equality while embracing love, positivity, joy, and kindness. 
The marshals will ride in the Pride Parade on November 6. The parade steps off at 10 am at Palm Canyon Dr. and Tachevah and proceeds downtown on Palm Canyon Dr. to the main entrance of the Pride Festival at Amado. The festival is free for all to attend. 
Palm Springs Pride 2022 Poster Art Unveiled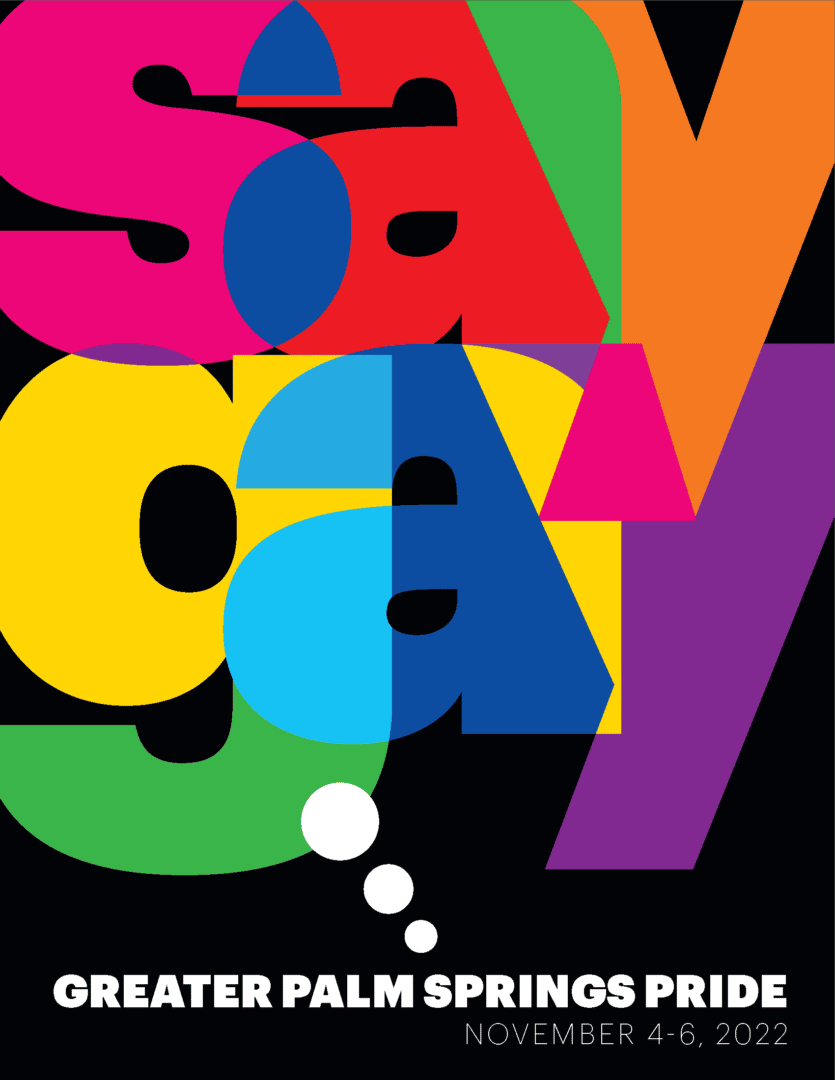 Palm Springs resident Richard Vaughn, Advertising Art Director, Palm Springs Life Magazine, created this year's Palm Springs Pride Poster. "For the2022 Greater Palm Springs Pride poster, I was inspired by Robert Indiana's iconic "Love" image, which stacks the L and O atop the V and E to create a graphic emphasizing the message "love." Similarly, this year's Pride theme, "SAY GAY," packs a powerful and political message for the LGBTQ+community."   Richard added, "When I visualized the theme, I saw bold letters overlapping, creating positive and negative shapes, which allowed me to use Gilbert Baker's original 1978 Pride flag colors. I added a dialog bubble tail to express the power of speech. I love the unabashed waythe poster conveys its message." "We shared the theme Say Gay with Richard, seeking a bold design to elevate the importance of two words.  Simple but serious words intended to set the mood for Pride in Palm Springs" said Ron deHarte, president and CEO of Palm Springs Pride. "We had a good feeling that Richard would create a great design because he designed the popular cover of the 2021 Pam Springs Pride Magazine."
2022 Palm Springs Pride Honors Awards Recognize Community Members Making a Difference
 

Greater Palm Springs Pride announced today the recipients of its 2022 Palm Springs Pride Honors Awards. The prestigious awards honor individuals for their work advancing the causes of LGBTQ individuals and their allies. Five awards celebrate extraordinary voices in the community. The recipients include a Trans Advocate, a community organizer, a reproductive health advocate, an Air Force veteran and community leader, someone who has devoted three decades to improving the lives of women and the LGBTQ+ community, and someone with thirty years of service advocating for health care for people living with HIV.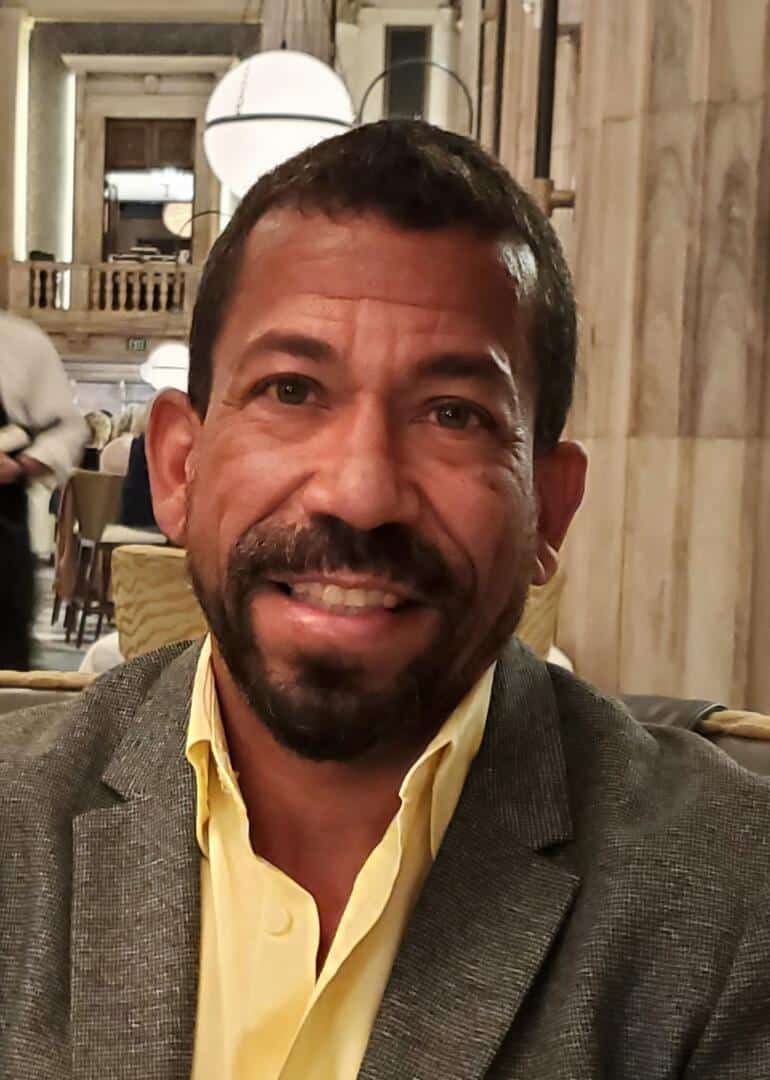 David "Jax" Kelly, who celebrates life as a gay, black man living with HIV, is the Spirit of Stonewall Volunteer of the Year. He leads Let's Kick ASS Palm Springs (AIDS Survivor Syndrome), serving one of the largest communities of people who are aging and those aging with HIV. Jax was the first black resident appointed by the City Council to the Palm Springs Library Board of Trustees. His volunteerism includes serving on Governor Newsom's Equity in Aging Advisory Council and the CA Department of Aging. He is also a member of the Coachella Valley Senior Collaborative. Jax was Mr. Palm Springs Leather 2018, and POZ Magazine recognized him for outstanding work in the HIV/AIDS Community. 
The Spirit of Stonewall Community Service Award recipient Maria Fraser's history of compassion and action speaks volumes about her dedication to improving the lives of women and the LGBTQ+ community. In nursing for most of her adult life, she mainly focused on women's health while finding ways to facilitate significant changes for the LGBTQ+ Community. Her hospital workplace advocacy led to substantial changes allowing same-sex couples the same access to visitation of a newborn in the NICU as straight couples had. Maria was on the Board of the L-Fund for seven years providing emergency financial support and educational assistance to lesbians in crisis.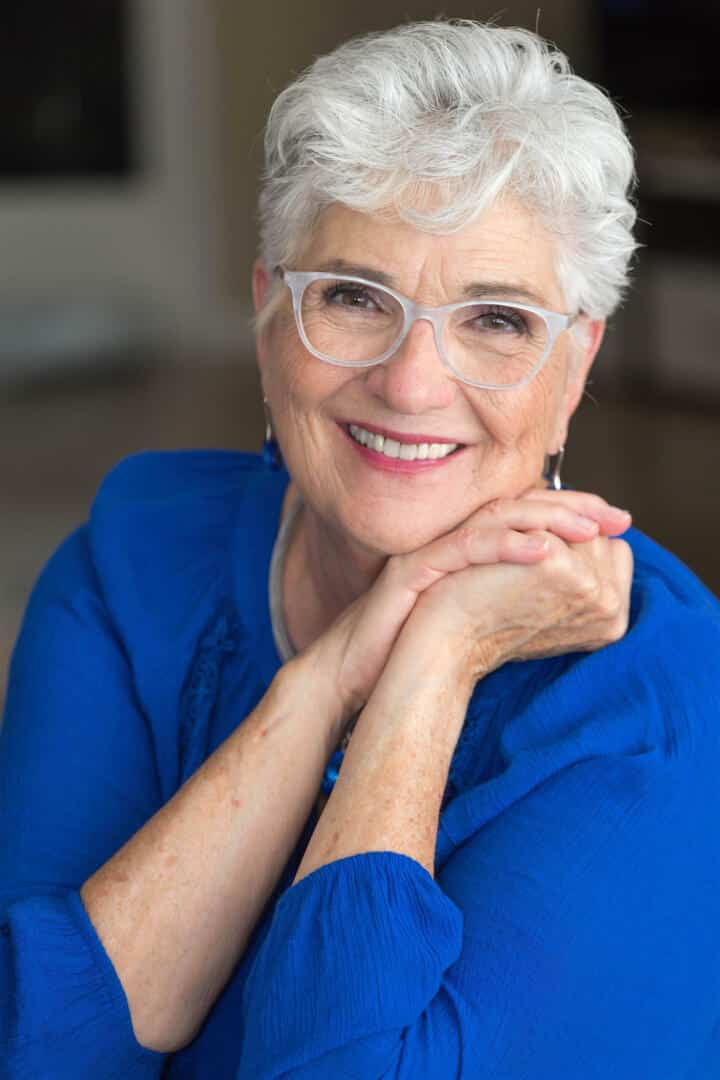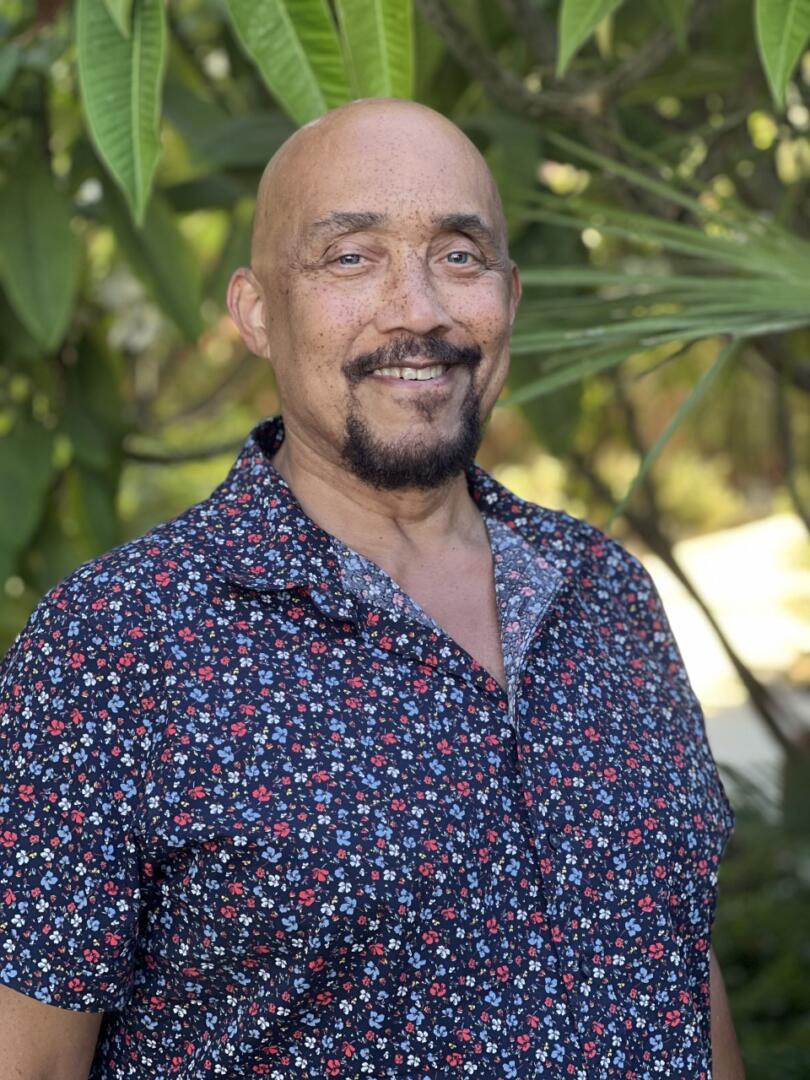 Nino Eilets is the Spirit of Pride Award recipient. Nino served in the Air Force for twelve years and has been a resident of Palm Springs since 1996. He is a generous, gentle soul with a big heart who has helped elevate many community organizations by donating his platform for outreach and education through advertising and editorial coverage. His life has brought him a wealth of experience and passion that he uses to raise awareness of advancing equality, promote diversity, and celebrate the strength and talent of the LGBTQ+ community.
The 2022 Friend of Pride is Karen Borja, an ally and champion for the LGBTQ community, a community organizer, and a fierce advocate for reproductive and healthcare access for everyone. Growing up in Coachella, at 16 years old, she joined family and community members to create a park network that demonstrated an investment in people and place. She's been transforming needs into community power ever since. Karen helped organize the second Eastern Coachella Valley Pride and currently serves as the president of the Desert Healthcare District.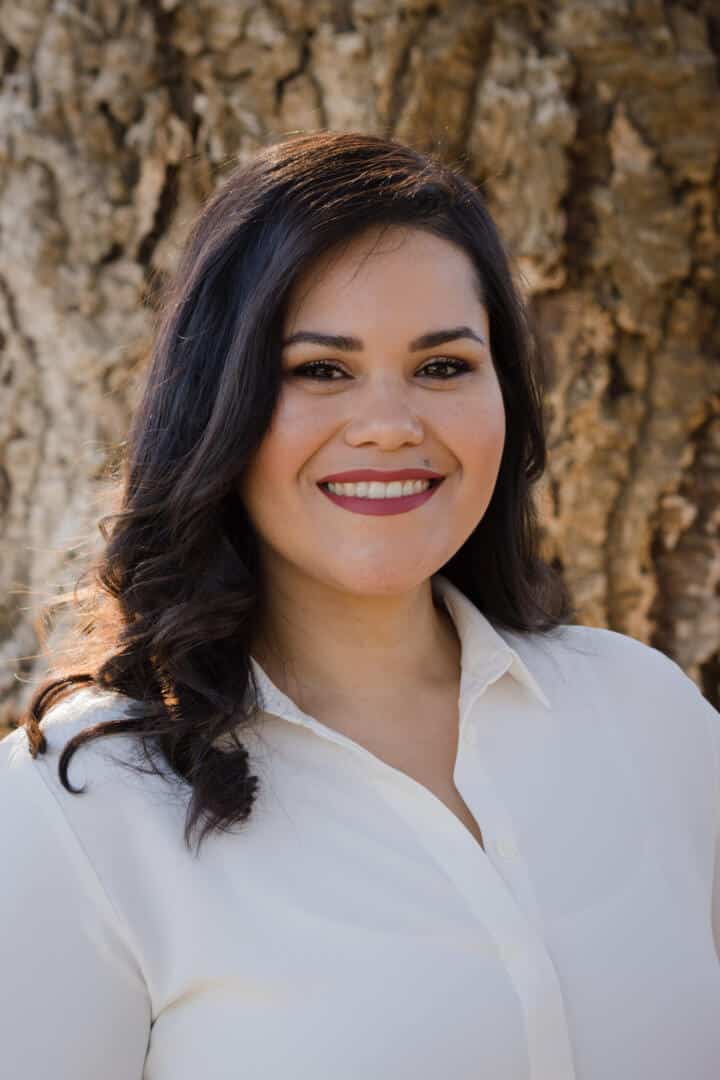 "Advocacy and community service is a common thread that connects the 2022 honorees to our community. They each have lived their life helping others, and our community is better because of their leadership," said Ron deHarte, president and CEO of Palm Springs Pride. "These are not people who seek attention or accolades for what they do. With purpose and a giving spirit, they quietly serve, and we are grateful for the profound impact they have had and continue to have in our community."
Don't miss an episode! Like, Follow and Subscribe…
BECOME A PROHOMO.TV® SUPERSTAR
PromoHomo.TV® is "Connecting the Circuity of Humanity" by "Creating Programming for LGBTQ+ Everyone." All programming may be streamed worldwide for free, but you are encouraged to become a PromoHomo.TV® Superstar by voluntarily subscribing for as little as $10/month.