PromoHomo.TV® Founder, Producer and Host Nicholas Snow, who has been a client of DAP Health for more than a decade, had a premium spot on the Blue Carpet at The Chase, the annual gala benefiting the beloved humanitarian organization.
Ahead of the event, organizers explained, "Thousands of our friends and neighbors have no access to health care. Together, likeminded philanthropists of all stripes can change that by joining the nonprofit's mission to create a healthier tomorrow by giving a voice to the often forgotten and by making sure none of us ever forgets that health care is not only human care, but a human right."
The dazzling 29th Annual Steve Chase Humanitarian Awards (AKA The Chase) returned as an all in-person event outdoors at the Palm Springs Convention Center on Saturday, March 25, and featured Emmy- and Golden Globe-winning actor and musician Darren Criss as its headline performer. The DAP Health Equity Award was presented to fashion icon and philanthropist Donna Karan. Desert Healthcare District & Foundation CEO Dr. Conrado E. Bárzaga and the organization's board of directors was honored with the DAP Health Humanitarian Award.
Attendees of The Chase enjoyed a fast-paced (albeit quite chilly) evening led by returning host Michael Urie (a Drama Desk Award-winning star of the new Apple TV+ hit comedy series "Shrinking"), with additional performances by Broadway's Nick Adams (Hulu's "Fire Island") and Saycon Sengbloh, a Tony Award nominee.
"Your presence at The Chase, beyond signaling your support for our honorees, shows your continued commitment to DAP Health's 10,000+ patients and clients," said DAP Health CEO David Brinkman. "Every attendee can count themselves among the bighearted humanitarians who help remove roadblocks to quality care and supportive services for their neighbors and friends so that everyone may live life to their fullest potential."
Nicholas Snow gets up close and personal with many big-hearted humanitarians in this episode of LIFE POSITIVE, the PromoHomo.TV® series "Spotlighting people living with, impacted by, and/or working to bring about the end of HIV/AIDS."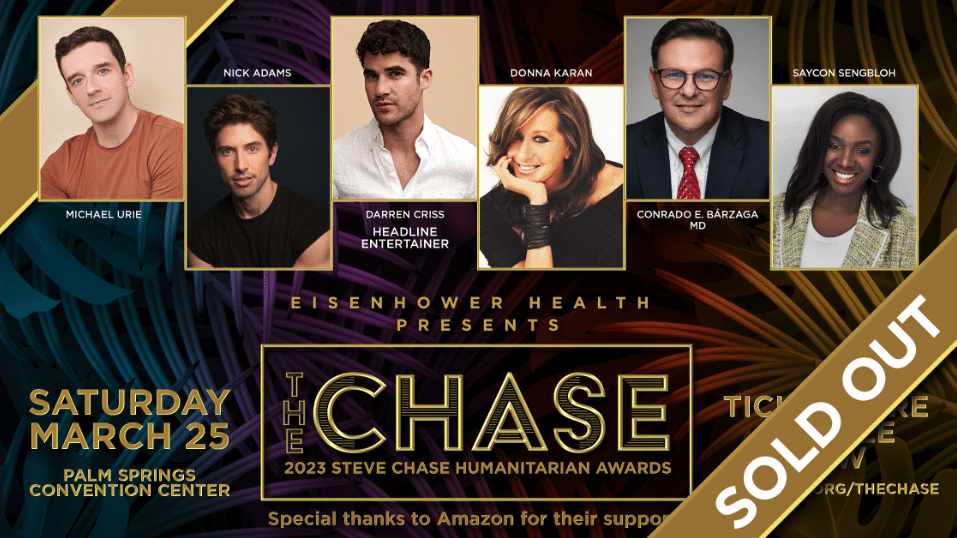 TINSELTOWN'S QUEER 30TH ANNIVERSARY
If you see this in time, don't miss the 30th Anniversary of Nicholas Snow's Historic Public Access Television Show, Tinseltown's Queer, taking place Friday, April 28th, 2023, 7 PM at the Palm Springs Cultural Center. The screening will also be available worldwide to the PromoHomo.TV® Superstars as of May 1st, 2023.
Don't miss an episode! Like, Follow and Subscribe…
Become a PromoHomo.TV® Superstar
CELEBRATING THE PROMOHOMO.TV® SUPERSTARS
Creatives and those who love them are familiar with crowdfunding platforms used to offer perks to donors who support a film or television project. Similarly, to serve as the cornerstone for the long-term success of PromoHomo.TV®, Snow encourages viewers to donate in support of the free programming with a voluntary monthly subscription. He calls these donors the PromoHomo.TV® Superstars.
The most popular subscription level is $10/month (the Skip-a-Latte Club), but some give up to $100/month (Associate Producers), and Snow recently introduced the Holler for a Dollar level. Subscribers who give $1.00 a month get a shout out on an episode after they subscribe. Some levels include merch but anyone can get the clothing on Amazon at this link.
As 2023 begins, there are 30 patrons (technically around 34 since some of them have partners) who give a total of $492/month. To join the PromoHomo.TV® Superstars visit www.Patreon.com/PromoHomoTV. To meet them, go to www.PromoHomo.TV/Superstars.