"Preserving & Sharing Our Collective Voices" examines the critical role museums and archives, both queer and mainstream, play in preserving and celebrating the diverse lives and experiences of LGBTQ+ people.
For the worldwide PromoHomo.TV® audience, panelists Glenne McElhinney and Tim Vincent join The Nicholas Snow Show to share their perspectives. For people in the greater Palm Springs area who see this in time, the live panel discussion is part of the 3rd Wednesday Speaker Series (October 19, 2022) at the Mizell Center, and will also feature David Gray, Co-Founder and Director of the LGBTQ+ Community Archives of the Desert, and Richard Burns, Chair, Board of Directors of the American LGBT+ Museum in New York.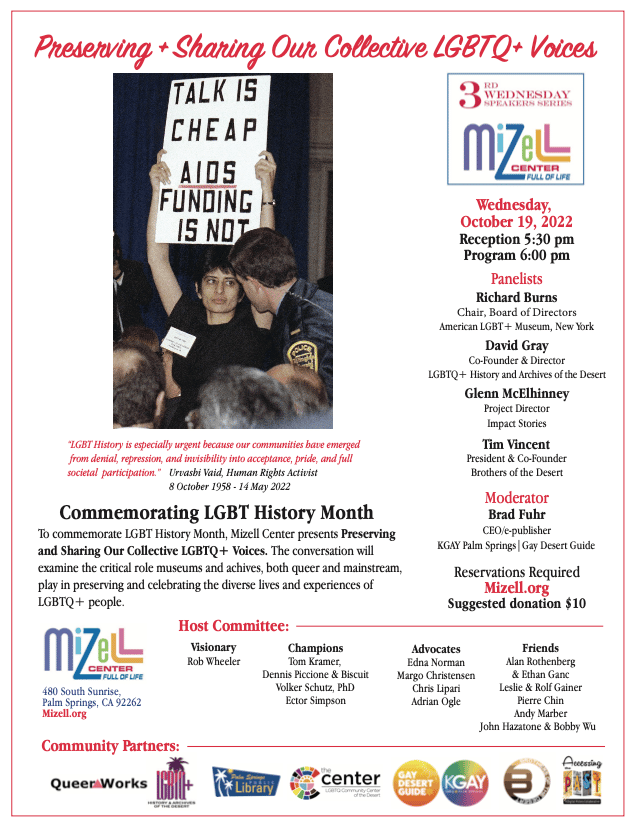 The panel will be moderated by Brad Fuhr, CEO/e-publisher of KGAY 106.5 Palm Springs and Gay Desert Guide. It's sure to be and educational and engaging conversation. Reservations are required, and there's a suggested donation of $10. To make your reservation, visit www.Mizell.org.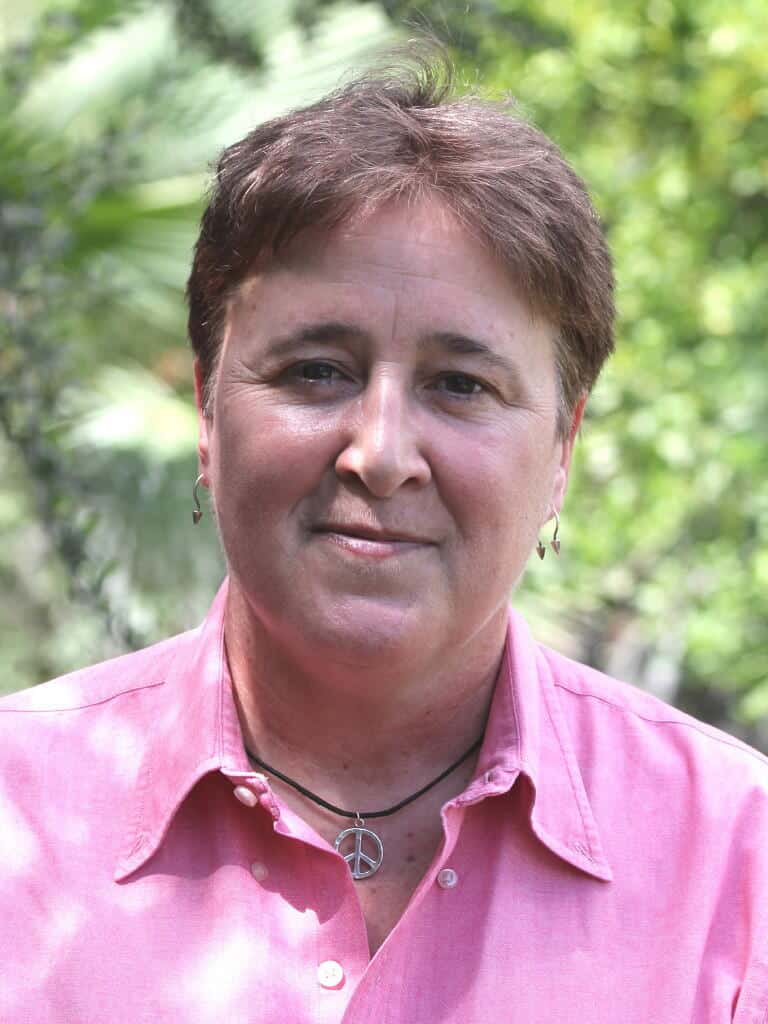 Glenne McElhinney
Glenne is the founder of Impact Stories a California community-based history project that uses oral histories, documentaries and exhibits to make LGBT/Ally history come alive for film viewers, classrooms, teen programs and all types of audiences. In 1982 representing the San Francisco Lesbian & Gay Freedom Day Parade' she became a founding member of InterPride, the international association of pride organizations.
Her current project Tales of California is producing short form documentaries about the original 1978 rainbow flags and the loss of a beloved LGBT community center that was torn down for a parking lot.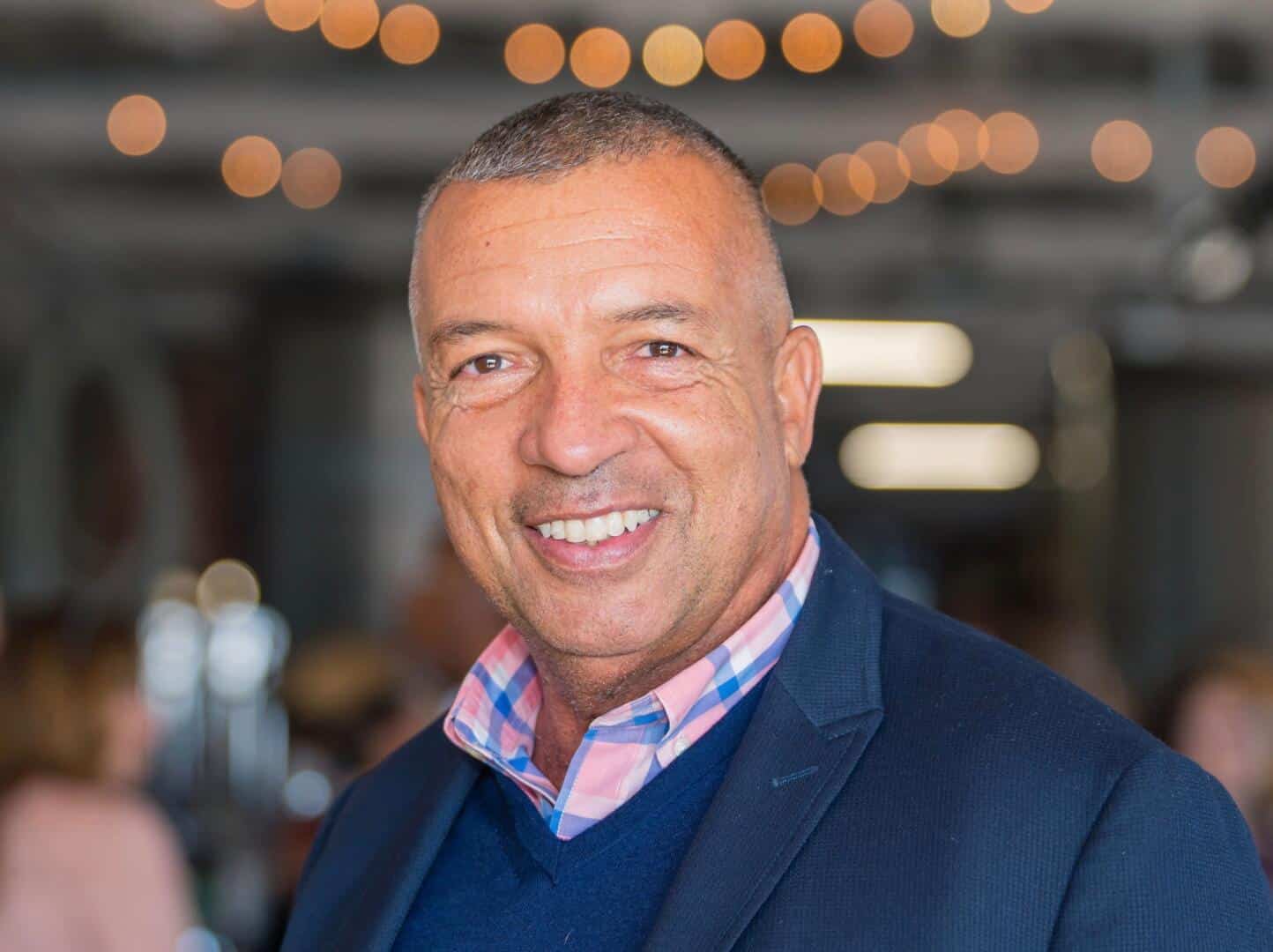 Tim Vincent
Tim Vincent has been working in the field of HIV and other health-related issues for nearly 30 years. He managed a national capacity building assistance program funded by the Centers for Disease Control to provide training, technical assistance and resources to healthcare professionals working in HIV prevention and care and continues to provide these services on a consultant basis for the University of California, San Francisco.
He has worked for the past 15 years as an independent consultant to strengthen healthcare programs to promote health equity especially as it relates to LGBTQ+ and communities of color.
Tim Vincent is also the President of the Board of Directors for Brothers of the Desert, a volunteer led non-profit organization with a mission to empower Black gay men and allies through education, socialization, advocacy, volunteerism, and mentorship in the Coachella Valley.
Don't miss an episode! Like, Follow and Subscribe…
Become a PromoHomo.TV® Superstar
PromoHomo.TV® is "Connecting the Circuity of Humanity" by "Creating Programming for LGBTQ+ Everyone." All programming may be streamed worldwide for free, but you are encouraged to become a PromoHomo.TV® Superstar by voluntarily subscribing for as little as $10/month.