The Origins of National Coming Out Day (which launched October 11, 1988) are featured in this episode of The Nicholas Snow Show on PromoHomo.TV®, originally broadcast on the 32nd NCOD in 2020, featuring three people who were there!
Nicholas, and his special guests for this broadcast, Honey Ward and Lynn Shepodd – along with thousands of others, were intimately involved with the first NCOD. Honey is most known as a longtime facilitator of The Experience, a seminar which has transformed the LGBTQ civil rights movement, and she is also a Life Coach. And Lynn, now a realtor, has held many professional positions of service to the movement, including that of NCOD Executive Director.
"Whether you're lesbian, gay, bisexual, transgender or a straight ally, be proud of who you are and your support for LGBT equality this Coming Out Day! Coming out and living openly aren't something you do once, or even for one year. It's a journey that we make every single day of our lives. Every coming out experience is unique and must be navigated in the way most comfortable for the individual…." …Human Rights Campaign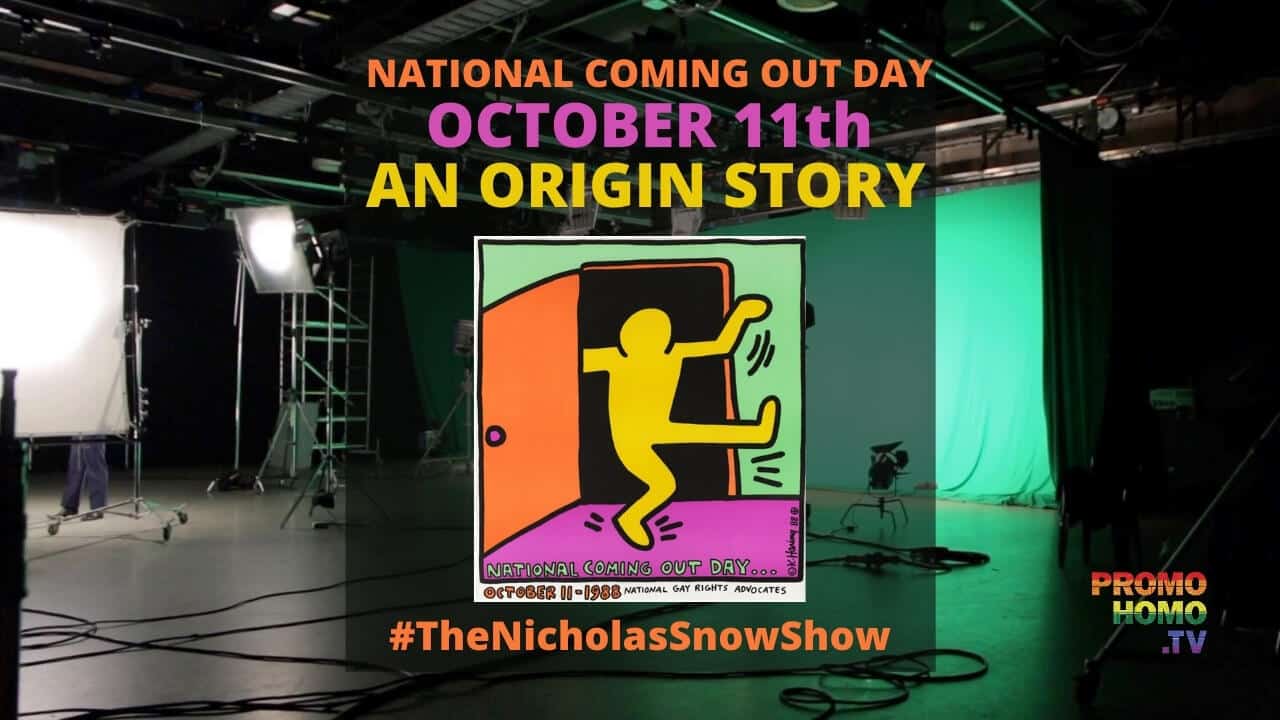 FROM WIKIPEDIA:
National Coming Out Day (NCOD) is an annual LGBT awareness day observed on October 11, to support lesbian, gay, bisexual and transgender (LGBT) people (and sometimes other groups typically grouped within the LGBT community) to "coming out of the closet". First celebrated in the United States in 1988, the initial idea was grounded in the feminist and gay liberation spirit of the personal being political, and the emphasis on the most basic form of activism being coming out to family, friends and colleagues, and living life as an openly lesbian or gay person.
The foundational belief is that homophobia thrives in an atmosphere of silence and ignorance, and that once people know that they have loved ones who are lesbian or gay, they are far less likely to maintain homophobic or oppressive views.
NCOD was inaugurated in 1988 by Robert Eichberg and Jean O'Leary. Eichberg, who died in 1995 of complications from AIDS, was a psychologist from New Mexico and the founder of the personal growth workshop "The Experience". O'Leary was an openly lesbian political leader and long-time activist from New York and was at the time the head of the National Gay Rights Advocates in Los Angeles.
LGBT activists, including Eichberg and O'Leary, did not want to respond defensively to anti-LGBT action because they believed it would be predictable. This led them to establish NCOD in order to maintain positivity and celebrate coming out. The date of October 11 was chosen because it is the anniversary of the 1987 National March on Washington for Lesbian and Gay Rights.
Watch. Listen. Be inspired.
Don't miss an episode! Like, Follow and Subscribe…
Become a PromoHomo.TV® Superstar
PromoHomo.TV® is "Connecting the Circuity of Humanity" by "Creating Programming for LGBTQ+ Everyone." All programming may be streamed worldwide for free, but you are encouraged to become a PromoHomo.TV® Superstar by voluntarily subscribing for as little as $10/month.