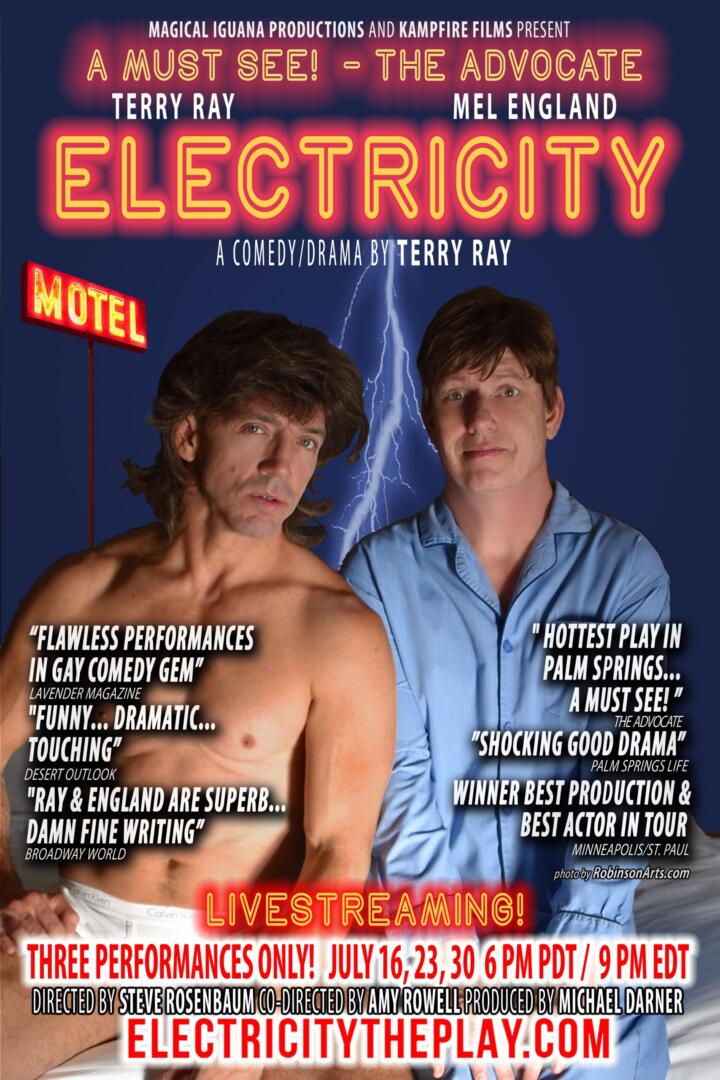 ELECTRICITY Playwright/Co-Star Terry Ray and Co-Star Mel England join Notes From Hollywood on PromoHomo.TV to discuss upcoming lives streamed performances of the hit, Off Broadway-bound play. While Broadway's lights are dim, audiences around the world can purchase tickets and experience live theatre from the comfort of their own homes.
Four Decades, Two Men, One Highly-Charged Love Story…
ELECTRICITY – the deliciously hilarious, heartbreaking and romantic love story between Brad and Gary has delighted audiences across the country. Playwright Terry Ray's riveting story unfolds over 4 decades and Brad & Gary's epic journey will stick with you long after the evening is over. Is the person that you can't get out of your head truly the person you're meant to be with?
ELECTRICITY LIVE performances are set for three Thursdays: July 16, 23 and 30th (2020) at 9pm EST / 6pm PST. It's a four-camera shoot, and tickets are just $12. Ticket availability at www.ElectricityThePlay.com
@ILoveGay #PromoHomoTV #NotesFromHollywood #ElectricityThePlay