Greetings from Nicholas Snow, your Notes From Hollywood correspondent for PromoHomo.TV with breaking news from the team at Variety.com: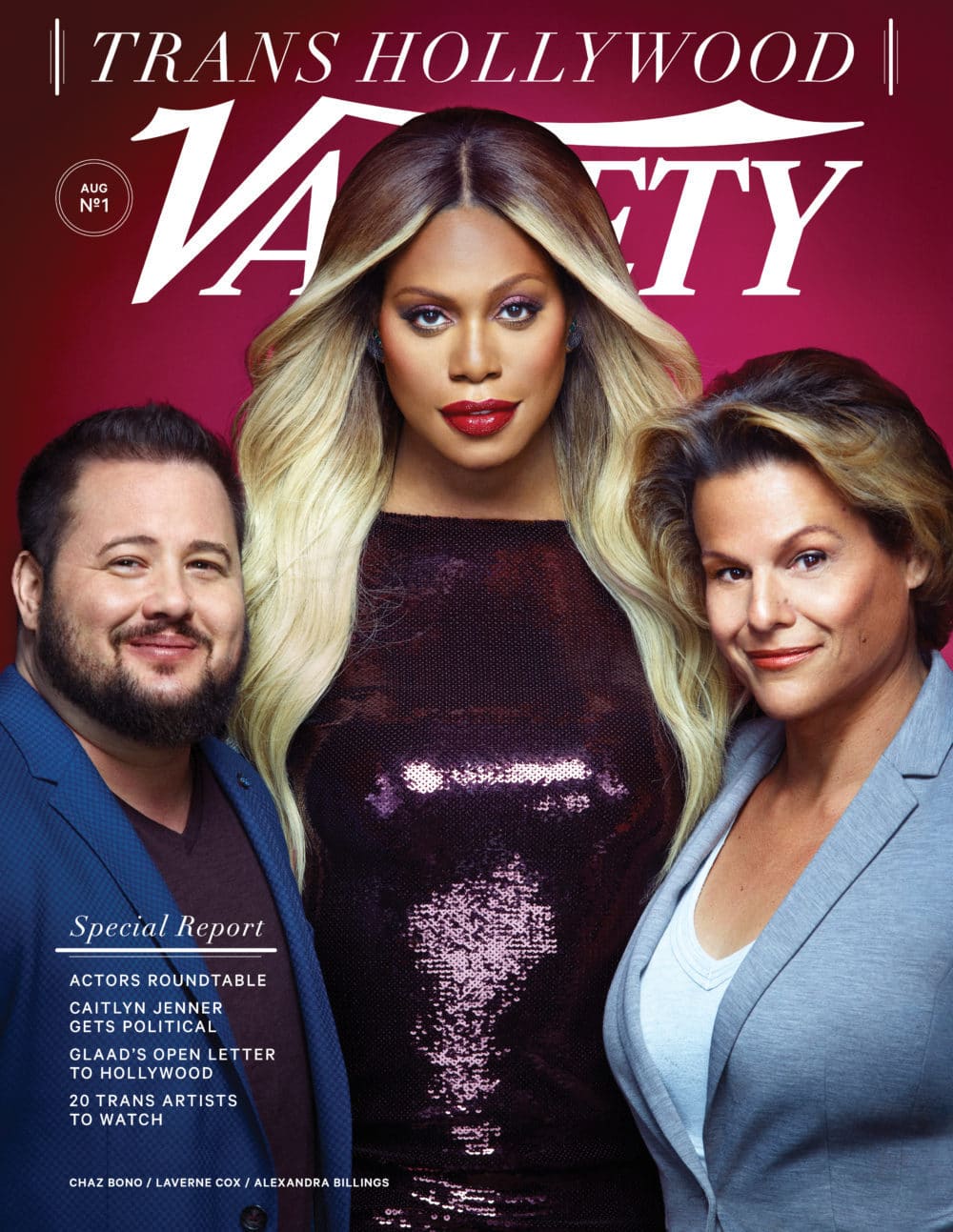 Cover Image by Jill Greenberg
"The world's most famous transgender woman has retreated from the public spotlight that once engulfed her and the hounding paparazzi who once tracked her every move. In her first lengthy sit-down magazine interview in more than a year, Jenner speaks with Variety about her conscious choice to focus, unheralded, on being a behind-the-scenes advocate for transgender rights on Capitol Hill."
In the groundbreaking cover story for Trans Hollywood Issue of Variety, Ramin Setoodeh writes, "Every few weeks, Jenner travels to Washington to tell her story. She's held long meetings with members of Trump's White House and roughly 50 members of the House and Senate — to personally make the case for equality."
On shying away from media attention:
"I don't do a lot of media. I don't want to be seen everywhere. Today, I'm very politically involved. Nobody really knows it. I do it very quietly because I have been so criticized by the liberal side of the media. I can get more things done if I don't stick my nose into everything publicly. I like going to Washington, D.C., doing what I do, but doing it quietly."
On being criticized for not doing enough to help the transgender community:
"No matter what you say or do, they think you don't get it because you're this kind of white, privileged person," says Jenner. She disputes the notion that she hasn't worked hard, or that her wealth disqualifies her from being an advocate. "I haven't turned my back on anybody," she says. But Jenner has received a cold shoulder from some of her peers: "I've felt it big time, and it hurts. Sometimes this community can be really tough."
On fighting for trans rights as a Republican liaison on Capitol Hill:
"I met with Paul Ryan. I've met with just about everybody. Publicly, they aren't supportive of transgender rights."
Margaret Hoover, the president of the American Unity Fund, a Republican-funded group that advocates for LGBTQ rights, on Jenner's unique position to educate:
"Think of your average Republican in Washington," Hoover says, noting that the party is getting older and less diverse. "It's basically like every white friend of your 70-year-old dad. At the 1976 Olympic Games, they were all in the prime of their life, and Bruce Jenner was their hero. They idolized Bruce." As a result, Jenner has been an effective ambassador. When they hear the word "transgender," they might imagine a man in a dress. But when they see Caitlyn, they agree that she should use the women's bathroom.
Jenner's message to Trump:
"Get over it! I honestly don't know what happened when he got in there. It was extraordinarily disappointing."
"He's not been doing a very good job, but it's not over yet."
What Jenner wants everyone to know:
"My life is so simple," she says. "It's just to be myself all day. I think people think when you transition, it
is this tremendous thing, and now you're a totally different person. I'm still the same person. Caitlyn lived inside me all my life."
On why she takes selfies with fans:
"If I'm out, I take a minimum of 30 selfies with people," she says. "It drives everyone around me crazy." This isn't done out of vanity. She's trying to prove a point. "That may be the first time they've met anybody who's trans," Jenner says about her interactions with her fans. "I want that to be a pleasurable experience. I want to be nice to people. I want to have a smile on my face. And they walk away and say, 'Oh, my God! Caitlyn was so nice.' That's the way I want them to think of trans people. That we're nice."
On her personal relationship with Sophia Hutchins:
"We are not going to get into that but we are very close. We do a lot of things together. We're kind of inseparable. We're the best of friends."
Hutchins on Jenner:
"Coming from a reality show, where every detail of your life is documented, to not seeking any press is kind of a big change. Caitlyn is not working on these issues for press attention. She's doing it because she genuinely wants to help the community."
On her dream acting role:
"In a Marvel movie, I want to play the baddest-ass lady you've ever seen in your life. They got the wicked queen or the wicked lady. Just do the makeup and the outfit. And I got the deep voice."
The Full Conversation and Exclusive Video at Variety.com
ABOUT PROMOHOMO.TV
The editorial mission of programming on PromoHomo.TV is "Connecting The Circuitry of Humanity." For more information about the history of Snow's Multimedia Entertainment Activism, visit this link.
PromoHomo.TV is presented with the support of Desert AIDS Project, Lulu California Bistro, Acqua California Bistro and Eight4Nine Restaurant and Lounge, with additional support on the horizon. Programming is distributed in partnership with the #ILoveGay campaign.
For Nicholas Snow's movie and television acting clips, visit this link.
RELATED STORY:
In Open Letter, Hollywood Companies Pledge to Improve Transgender Representation